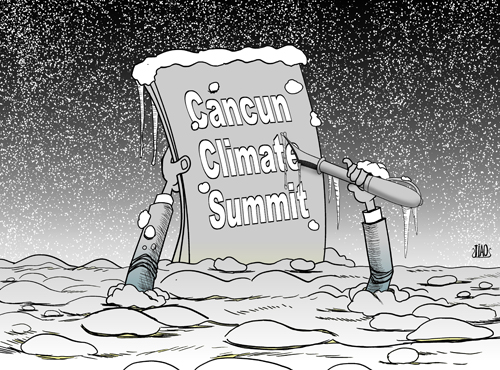 Chill atmosphere  [By Jiao Haiyang/China.org.cn]
Climate change can be a complicated mix of economic, social, scientific, ecological and geological issues. But you don't have to be a scientist or an economist to see and feel its effects or count its costs.
The world's climate is changing rapidly. As a result, the world has been kept talking about climate change and global warming.
The United Nations (UN) has been keeping the world talking (about climate change). But when the first UN Environmental Conference was held in Stockholm in 1972, climate change was not even an agenda item.
The term "global warming" only surfaced in 1975. Then in 1988 the UN established the Inter-governmental Panel on Climate Change (IPCC) to examine and discuss related issues. Then came the Rio Earth Summit in 1992 and the establishment of the UN Framework Convention on Climate Change(UNFCCC). And now, there's an international climate change summit every year that keeps nations talking.
But in all that world talk, developing countries have been getting the run-around ever since talks first began, while constantly suffering the very costly consequences through deaths and destruction.
Rich countries set emissions reductions targets that are lower than required, while simply not doing enough to help poor countries adapt or mitigate the effects of the climate crisis.
Promises are made, but not kept. US$30 billion was pledged in Copenhagen last year, but, a full year later, most vulnerable poor countries haven't yet seen a cent. Clean technology isn't being transferred. The U.S. is simply not interested in signing on to the Kyoto Protocol, far less supporting its extension beyond 2012.
The talks in Cancun are more than halfway through and pessimism is taking root. The entire UN process is being questioned. Alternatives are also already being recommended.
UN Secretary General Ban Ki Moon and the head of the UN's Framework Convention on Climate Change (UNFCCC) Christina Fernandes both appealed at the beginning of this week's ministerial conference in Cancun for compromise and a global instead of national approach to solutions. They begged for delegates to abandon national agendas and think global and settle for more easily achievable objectives than the most desired global solutions.
But neither appeal has been responded to positively – and while the talking continues, climate change continues unabated around the world.
Consider the facts.