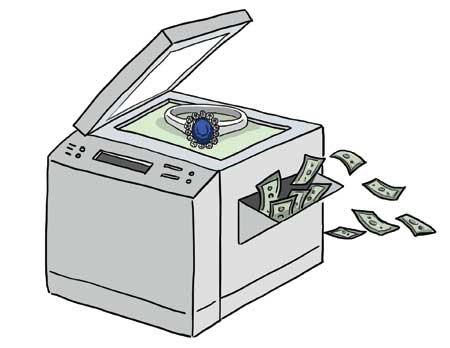 As soon as I saw Prince William and Kate Middleton's engagement photo, I smelt a business opportunity. It's a natural reflex for a jewelry maker in Yiwu, Zhejiang Province - the largest petty commodity wholesale market in the world.
I immediately started downloading photos of the famous Diana engagement ring, making moulds, selecting raw materials, producing replicas and putting them online for sale. From conception to online sales, it took me 12 days.
If I had used plastic or glass as raw materials, I could have done it in a week. But the price would have been much lower. We finally chose zircon - the visual texture is good, and these rings sell at $3 to $4 each on the wholesale export market.
In the UK, the same rings retail for $30 to $40. Logistic costs are quite low - $3 to $4 for 100 rings. The profit margin for retailers is considerable, so they do not put too much pressure on us. This gives us room to go more upmarket in the future.
Competing on low costs and cheap prices is a dead-end job in China: If you make something at a cost of $10, there is always a guy who can make an identical product for $1. In the jewelry-making industry, costs are transparent. If you try to gain an advantage by using a low price, you are quickly pigeonholed as a cut-price vendor. If you then turn around and try to add in new ideas and seek a higher margin, you get caned.
In Yiwu we urgently need to move away from this cut-price image, because we are losing our cost advantage.
In 2010, production costs in my factory, including the cost of labor and raw materials, rose by 20 to 30 percent. The profit margin contracted sharply, because I couldn't raise our selling price to the same extent.
The only way out is to innovate and improve the products.