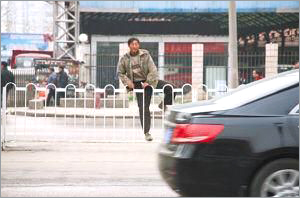 The Civilization Office of Wuhan, Hubei Province, revealed to the media individuals that had been classified as "uncivilized people" for committing offenses related to "uncivilized behaviors," including running traffic lights. 
Recently, the Civilization Office of Wuhan, Hubei Province, began revealing to the media individuals that had been classified as "uncivilized people" for committing offenses related to "uncivilized behaviors," including running traffic lights. Soon, the measure aroused great controversy. Critics said it was illegal and that there was no law allowing authorities to publish the names and personal information of people who have violated traffic rules.
Indeed, authorities themselves have run a red light in publishing such information. There is a principle that says the public power of the state must be authorized by law. Authorities are given express rules that govern what they are allowed to do – and publishing names of offenders isn't one of them.
But in addition to written law, there are unwritten rules of civilization at work. These are our moral customs. In modern society, among many widely accepted ethical practices, there is one principle called privacy, which means, to avoid unnecessary damages, some information should be limited to those involved in the situation and should not be exposed to the wider public. Note here the damage is "unnecessary" and not "illegal."
A society in which everything is classified as legal or illegal is unfeeling. Moral customs, in contrast, provide more compassionate social order, focusing on understanding rather than punishment. They require people to avoid doing harm to each other not because doing so would have serious (legal) consequences, but because doing so is not good, dishonest and would hurt others. Just think: If you ran a red light because of an emergency and were punished and aware of the wrongdoing, how would you feel about being "randomly" chosen to be publicized for your offence? If you feel bad about such method, then treat others the same way you would like to be treated.
China has no lack of traditional moral customs like the Golden Rule, do unto others as you would have them do unto you. But it seems China lacks a sense of privacy. In contrast, the U.S. puts exceptional emphasis on privacy. To avoid embarrassment or harm to others intentionally or unintentionally, the U.S. has many norms on privacy, such as not asking about other's salary, not revealing library records, not releasing medical histories, and requiring a confidential seal on letters from a professor to his student. Public schools also don't make public the rank of students nor disclose any information about students who have been punished.
In other countries, privacy laws are even stricter. When a person is arrested for a crime, unless the incident involves a public figure, details about the crime will not be open to the public. For one thing, such information has nothing to do with the public. For another, it may cause unexpected injury or consequences to the reputation, business or future of the parties concerned. There may be exceptions, such as if the crime involves sexual abuse, because the offenders may cause infringement upon others' rights. The reason for the disclosure of the information is to protect the public, not to serve as a warning to others and still less to humiliate the criminal.
China has a long history of making personal information public to shame individuals. In the past, people's class status, or that of their parents or grandparents, would be publicized, especially if they belonged to a "bad class" to torture them psychologically and humiliate them. This led to many criticisms, denouncements and public statements on family desertion. In short, public humiliation did not form a noble and moral society. It did the opposite. Millions of people were humiliated all the time, and embarrassing things became commonplace. Unlike animals, humans have self-esteem. A decent society will pay great attention to avoiding humiliation and injury to its citizens.
Xu Ben is an English professor at Saint Mary's College of California.
(This article was first published in Chinese and translated by Li Huiru.)
Opinion articles reflect the views of their authors, not necessarily those of China.org.cn.