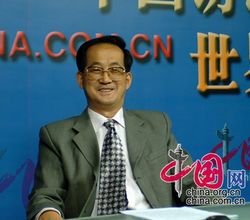 Prof. Ma Jiali is Deputy Director of the China Reform and Opening up Strategy Research Center. 
On April 14, leaders from India, Russia, Brazil, South Africa and the host country, China, will attract the attention of the world when they gather in the beautiful city of Sanya on Hainan Island for the
3rd BRICS summit
. In line with the theme of this year's summit "Broad Vision, Shared Prosperity", the leaders of the five countries will discuss the challenges and opportunities presented by the current world situation and how to boost cooperation among the emerging economies to secure a bright future.
In recent years, following steady progress in building its strength and increasing its international influence, India's foreign policy has taken a pronounced active turn, manifested in a strong interest in all multilateral organizations. Since BRIC (now BRICS) is the principal platform for the emerging countries, India was interested in the grouping from the outset and its interest has become steadily keener.
From the point of view of India's national interests, participation in BRICS proceeds from several strategic considerations.
The first is the need to act together to combat the international financial crisis. In the last 20 years, India's economic reforms have made considerable progress, and momentum has picked up since the turn of the century. But the outbreak of the international financial crisis in 2008 dealt a blow to India's advance. The growth rate fell, exports were hit, the exchange rate of the rupee fell and inflation accelerated. Faced with this situation, one of the Indian government's primary considerations was to take coordinated measures with other emerging countries to respond to the crisis and maintain the momentum of rapid development.
Second is the desire to achieve great power status. India has for many years been working tirelessly to join the great power club, to achieve genuine power and influence on a world scale. But if truth be told, the common perception of India is of a South Asian regional power, unable to move up a division to world power status. With the advent of the new century, the thirst for public recognition of India's great power status became more acute, particularly with regard to the issue of permanent membership of the U.N. Security Council. In 2001, then Indian President Kocheril Raman Narayanan said India should become a great, rich and prosperous country, and achieve a role and status in line with its size and position. In 2004, then Indian Prime Minister Atal Bihari Vajpayee said India's goal was to win a place at the table in world affairs. The Indian Ministry of External Affairs has a slogan "India Everywhere" which expresses its determination that Indian leaders should be present on each and every important international occasion.