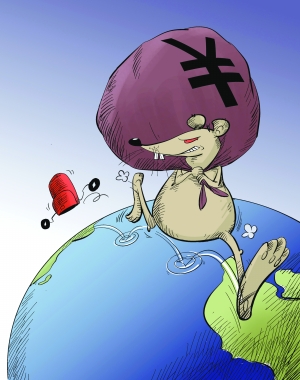 [From the Beijing News]
Recently, the People's Bank of China published on its website a report concerning the transfer overseas of assets by corrupt officials in China. The report cites research by the Chinese Academy of Social Sciences which revealed that about 16,000 to 18,000 government employees, police officers, judicial officers, senior managers of government institutions and state-owned companies, as well as employees of Chinese organizations in foreign countries, have escaped abroad or gone missing since the mid-1990s. The money they took with them reportedly totals 800 billion renminbi (US$123 billion).
It is both excited and astonished that the media published this piece of news.
The exciting part is this: Before, stories of absconding corrupt officials had been top-secret information, always hidden, never available to the public. So, even though the report is still not so detailed, it is enough to highlight progress in the media.
What makes people feel astonished are the two figures: the number of the corrupt officials and the huge sum they fled away with over the past 10-plus years.
The PBOC report made no secret of the number, the means, the final destination and current situation of these absconding corrupt officials, nor was it scared to speak of the total amount they took with them. It then went even further by identifying eight methods by which the corrupt officials transferred their assets overseas, as well as their preferred destinations. This no doubt is laying out the truth on the table, letting the people enjoy the right to know. In this way, transparency also casts an inescapable net upon corrupt officials by mobilizing the people to participate in the supervision of similar incidents.
Revealing the truth about corrupt officials won't make the sky fall, but it will enhance the relationship between the Party and government and the people, strengthen the trust people have in the Party and government, and play an active role in building a harmonious and stable society. At the same time, an increased sense of participation in people to oppose corruption and fight for integrity, as well as to provide a check on absconding corrupt officials, will have an effect that cannot be underestimated.
Only by timely publicizing problems, will there be truth. Addressing the problem by seeking truth from facts – this is the real way of publicizing and scientific supervision. Only then can the right of people's supervision be protected. This will be progress in the media, progress in justice, progress in the governing concept of our Party, and, especially, progress in society.
(This article was written in Chinese and translated by Li Huiru.)
Opinion articles reflect the views of their authors, not necessarily those of China.org.cn.