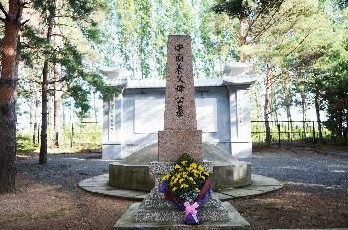 Monument for Japanese settlers in Fangzheng county.
The Fangzheng county government in northeast China's Heilongjiang Province has erected a monument for Japanese settlers who died there during World War II. Names of 5,000 dead Japanese have been carved on a Chinese-style memorial raised beside a local cemetery.
Make no mistake; the deceased should all have a gravestone with their name on it. But these dead people belonged to the Manchu Exploration Troops, armed colonists sent by Japan's Kwantung Army after the Mukden Incident on Sept. 18, 1931, when the Japanese staged a bombing as a pretext to invade northern China. The first few waves of immigrants were former soldiers. Despite their supposed transition to a peaceful life as farmers, they remained armed throughout their occupation. Indeed, they were colonists managed by the Japanese military.
During the settlement, the settlers stole plots of farmland from local residents, becoming the top class in Manchuria, a puppet state in northeast China controlled by Japan. The settlers were deeply involved in the Japanese invasion, helping the Japanese army rule and suppress the area. Some even participated in the encirclement and suppression campaign against the Anti-Japanese Allied Army.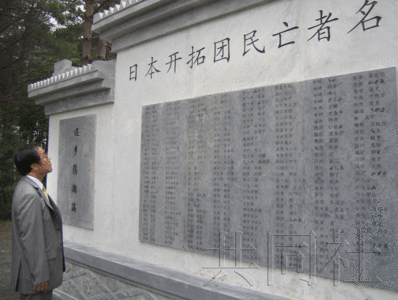 After Japan's defeat, the settlers – especially the elderly, women and children – were in dire straits. Many of them died in China. But like the Japanese soldiers who perished on the battlefield, their deaths were caused by Japan's militarism, not the Chinese. And Chinese do not need to commemorate them.
As the victim of a 14-year invasion, China cannot and should not commemorate the death of its attackers. Although some of them are women and children who had no direct role in the war, they should be remembered by the Japanese, not the Chinese. Moreover, Chinese could not tolerate trips by the Japanese to worship war criminals' spirits at the Yasukuni Shrine.
An official with the Fangzheng county government said the monument is meant to reflect the war and express our desire for peace. But from the photos released online, I could not see any indication of this intent. The monument makes me feel uncomfortable. It's not fair to the millions of Chinese who lost their lives in the war.
(This post was first published in Chinese and translated by Li Shen.)
Opinion articles reflect the views of their authors, not necessarily those of China.org.cn.