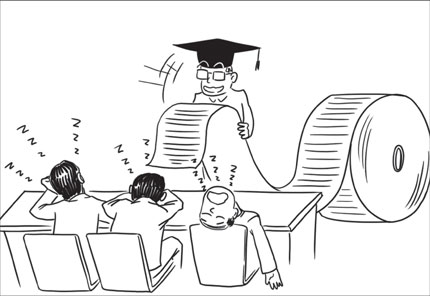 [By Zhou Tao/Shanghai Daily] 
Editor's note: How can China become an innovative country when many professionals are judged not by their real accomplishments but by their output of papers? The following Xinhua article identifies one of the biggest hurdles to innovation: blind worship of academic publishing - the more the better.
AS China's economy has soared to the second place in the world, the country's scientific strength has also surged - if only measured by the numbers.
Chinese researchers published more than 1.2 million papers from 2006 to 2010- second only to the United States but well ahead of Britain, Germany and Japan, according to data recently published by Elsevier, a leading international scientific publisher and data provider.
This figure represents a 14 percent increase over the period from 2005 to 2009.
The number of published academic papers in science and technology is often seen as a gauge of national scientific prowess.
But these impressive numbers mask an uncomfortable fact: most of these papers are of low quality or have little impact.
Citation per article (CPA) measures the quality and impact of papers. China's CPA is 1.47, the lowest figure among the top 20 publishing countries, according to Elsevier's Scopus citation database.
China's CPA dropped from 1.72 for the period from 2005 to 2009, and is now below emerging countries such as India and Brazil.
Among papers lead-authored by Chinese researchers, most citations were by domestic peers and, in many cases, were self-citations.
"While quantity is an important indicator because it gives a sense of scientific capacity and the overall level of scientific activity in any particular field, citations are the primary indicator of overall scientific impact," said Daniel Calto, Director of SciVal Solutions at Elsevier North America.
Calto attributed China's low CPA to a "dilution effect." "When the rise in the number of publications is so rapid, as it has been in China - increasing quantity does not necessarily imply an overall increase in quality," said Calto.
He noted the same pattern in a variety of rapidly emerging research countries such as India, Brazil, and earlier in places like the Republic of Korea.
"Chinese researchers are too obsessed with SCI (Science Citation Index), churning out too many articles of low quality," said Mu Rongping, director-general of the Institute of Policy and Management at the Chinese Academy of Sciences, China's major think tank.
SCI is one of the databases used by Chinese researchers to look-up their citation performance. The alternative, Scopus, provides a wider coverage worldwide.
"Chinese researchers from a wide range of areas and institutions are vying for publication, as it is a key criterion for academic appraisal in China, if not the only one. As a result, the growth of quality pales in comparison to that of quantity," said Mu, an expert on China's national science policy and competitiveness.
On the other hand, China also falls behind the United States in multidisciplinary research, which is a core engine for scientific advance and research excellence.
From 2006 to 2010, China published 1,229,706 papers while the United States churned out 2,082,733. According to a new metric introduced by Elsevier's Spotlight research assessment solution, China generated 885 competencies while the United States had 1,817. In other words, China's total research output is more than half that of the United States, while the number of competencies showing China's strength in multidisciplinary research is less than half that of the United States.
Cong Cao, an expert on China's science and technology, put it more bluntly in an article he wrote: "When the paper bubble bursts, which will happen sooner or later, one may find that the real situation of scientific research in China probably is not that rosy."