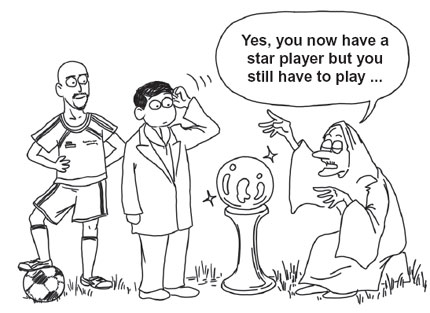 [By Zhou Tao/Shanghai Daily]
Come January, and the fans of Shanghai Shenhua can be forgiven for being sanguine about a very fulfilling New Year. It is not always that their club gives them much reasons to cheer, but they will be hoping that the arrival of Nicolas Anelka, and possibly other star names, will change all that.
It may be too early, although not impossible, to expect immediate results when the season kicks off with a new-found optimism, but the presence of a star, or stars, in their midst should generate enough fodder for headlines and microblogs - hopefully only stuff from the pitch.
While Anelka's signing should justifiably be celebrated - at 32, he is still not past his prime -- -it can in no way be seen as a statement of confidence in the management of the Chinese Super League (CSL). Not just yet though.
The clubs may be stashed with the cash - most of them unaccounted for - but the CSL has also not been able to wipe itself clean from allegations of corruptions and scandals with some of the top bosses already in the dock.
The game itself needs a fresh impetus to make it attractive or even face up to the continent's powerhouses Japan and South Korea, and now Qatar. Only then can it expect to build a national team of some quality and repute, regularly challenging for regional honors.
Right now that seems to be decades away.
The CSL can, however, do well to gain some insight from the Major League Soccer in the United States, rather than blindly ape the hyped English Premier League or other European leagues, if commitment to the game remains its prime objective.
Indeed, one has only to look at the MLS, which lined up Pele, Franz Beckenbauer, Thierry Henry, Robbie Keane, and the biggest star name among them all David Beckham, over the years to shore up the status of American soccer globally. That hasn't quite happened exactly, but they have done enough to generate enthusiasm in their part of the world to win the crowds over.
That may just be the first step for CSL.
Remember also, soccer is seeking a foothold in North America, unlike in China, where the game remains enormously popular despite the scandals and high-profile corruption cases, and winning the crowd back to the stadiums should not be as difficult as in the United States.
Despite that, the Americans have already made nine FIFA World Cup appearances, albeit helped by local demographics, but the role of the Major League Soccer in ensuring that they remain competitive at all levels cannot be disregarded. The country is currently ranked 34 when the FIFA world rankings were released on Wednesday. That is still a climbdown from its April 2006 high of 4th place. China sits way below at 71.
According to the Los Angeles Times, Major League Soccer attendance in the US was up 7 percent to 17,872 per game this year, better than last season's NBA (basketball) and NHL (ice hockey) averages, and falling just behind American Football (NFL) and baseball (MLB) among the US-based professional leagues.
Nearly one-third of MLS' regular-season matches sold out this season.