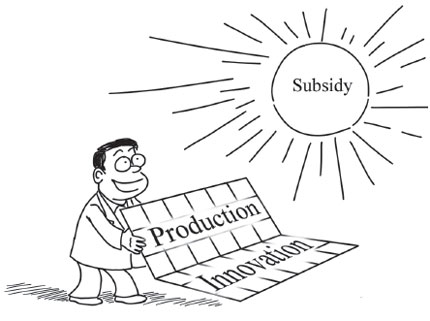 [By Zhou Tao/Shanghai Daily]
Being home to some of the world's top solar product companies, China has the power to dictate the future of solar energy across the globe.
"The stakes are immense," says Ryne Raffaelle, associate provost of the Rochester Institute of Technology (RIT) in New York and former director of the National Renewable Energy Laboratory's photovoltaic center. "Solar is the fastest-growing market in the world. It's a US$300 billion industry."
China now makes more than half of all crystalline silicon photovoltaic panels sold in the world. Suntech Power Holdings, Yingli Green Energy Holdings, Trina Solar and a host of other Chinese firms have become industry pace-setters, driving international competition and pricing trends.
But after blazing across the globe from small beginnings just 10 years ago, is China's solar panel industry becoming a victim of its own success?
As China's solar sector arrives at a turning point, experts are debating whether it will be forced to depart from its tried-and-tested formula. What's increasingly clear to all is that Chinese solar companies will soon need to offer more than the low-cost products and exporting prowess.
That's easier said than done, of course, and reorienting their business models to focus on greater domestic market expansion and differentiating products through innovation is full of risks, even if it ultimately provides a more sustainable strategy than what they have now.
"China is even more vulnerable than the US or Europe in energy security," says Mauro Guillen, a Wharton management professor and director of the school's Lauder Institute. "It has every incentive to develop all its resources" for the home market.
That involves innovation, not just low-cost production, he adds, something China's government may want to bear in mind when deciding where to channel subsidies under its latest growth plan. "If you just subsidize production, you could be subsidizing something that is not economical," says Guillen. "But if you subsidize innovation, in the end, you may find something that works much better than coal," China's primary fuel.
For now, it's not long-term innovation but the survival of a sector-wide upheaval that's consuming China's attention.
One reason: A trade skirmish with the US in a Chinese industry that exports 90 percent of output. "The feeling at the moment is panic," says Melanie Hart, a policy analyst at the Center for American Progress, a Washington, DC, think tank.
It began with the shuttering earlier this year of Fremont, California-based Solyndra, blaming its default on US$585 million of federal loan guarantees on cutthroat Chinese competition.
Less than two months later, on October 19, Hillsboro, Oregon-based, German-owned SolarWorld Industries America, the US' largest solar cell manufacturer, and seven unnamed US companies filed an antidumping complaint against the Chinese industry before the US Department of Commerce and the US International Trade Commission. (Solyndra was not identified as a complainant.)
Then, a few days after China's Ministry of Commerce announced that it was investigating whether US government support for the American solar industry is in violation of World Trade Organization rules, the US International Trade Commission made a preliminary decision in favor of the US complainants.
There are now questions about whether SolarWorld's case could result in high tariffs in the US, which would essentially shut out Chinese solar panel imports from the country.
That may be welcome news in only some business circles. Today, the US runs a trade surplus with China, selling equipment and other exports to Chinese solar companies.
"A US-China trade war would be bad for the solar industry, bad for jobs and bad for the global economy," says Andrew Beebe, chief commercial officer of Wuxi (Jiangsu Province), China-based Suntech Power Holdings, the world's largest solar cell maker, with 2010 revenue reaching US$3 billion.
While not everyone in the sector may agree, investors view China's solar sector as a giver of life to a still-nascent industry. For that reason, "trade sanctions are a bad idea," says Alain Harrus, a partner at Crosslink Capital, a San Francisco venture capital firm that invests in China. "It will send us backwards to an era where there are fewer megawatts of solar installed at a higher price."