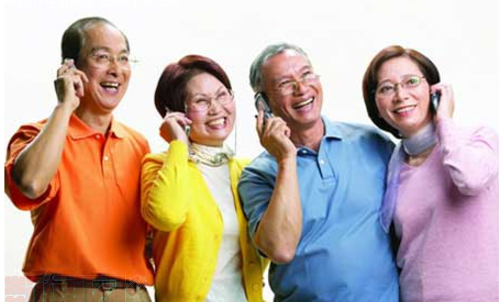 [File photo]
One can never underestimate the importance of cell phones in people's lives today. Many people are so reliant on their cell phones that the devices have become inseparable part of their everyday lives.
It's fair to say that cell phones are now squeezing the time from people's non-cell phone activities. With today's hectic lifestyles cell phones, especially smartphones, are serving as people's integrated communication platform.
The use of cell phones among Chinese citizens is occurring at an increasing pace. And the popularity of smartphones, facilitated by the third-party development of various applications, has greatly increased. With the improvement of the general living standards of people, the availability of more and more easy-to-use apps, whether they are functionally useful or just recreational in nature, has attracted an increasing number of those who were traditionally non-users or light users of cell phones. For example kids and the elderly are increasingly becoming the heaviest users of smartphones, particularly when it comes to playing games.
In the early stages of Internet development, a typical Internet user was a well-educated youth, and the main concern was the digital divide. Two key factors affecting people's adoption and eventual use of the Internet are the cost of access and the ease of use. The continuous drop in access fees, combined with the development of increasingly user-friendly apps in the recent years, has facilitated the flourishing of the Internet in China, both in urban and in rural areas.
There have long been controversies regarding the consequences of computer and Internet use, but one thing is sure, cell phones are increasingly carrying much of their owner's life and dreams and people are spending more and more time in this private territory.
Considering today's fast-paced and busy world, as more and more elderly people are left alone, the prevalence of social media and their numerous attached apps seems a natural shelter for the elderly against boredom and loneliness. The increasing affordability of cell phones, together with the persistent efforts toward the user-friendliness of smartphones and their various apps, have greatly empowered the previously marginalized group of elderly people to embrace them as new recreational activities.
Mobile games enable senior citizens to play games which effectively alleviates their perception of loneliness and isolation. This reinvigorates their vitality by helping them reconnect with the world that they, in many cases, have reluctantly retired from.
What was once strictly a youthful domain is now becoming theirs as well. Playing such games also gives the elderly the confidence to better exploit the new possibilities and life experiences facilitated by the prevalence of new information and communication technology.
Therefore, we can reasonably assume that the adoption of cell phone games and other user-friendly apps will bridge the gap between generations, at least to some extent. The elderly and the young will have some common interests to talk about. This exchange of experience will help facilitate socialization.
During the process, elderly people's often negative self-perception of being isolated or excluded by society will be substantially mitigated, and a feeling of connectedness with society will arise. Last but not least playing these games will keep them mentally active.
That said, however, the smartphone world is a double-edged sword.
Being able to make full use of cell phones is becoming a requisite skill for contemporary life and, accordingly, a failure to grasp its use could isolate the elderly even more.
It is therefore very important for our society in general, and the younger generation in particular, to encourage the elderly to overcome any technology anxiety.
The author is a professor from School of Journalism & Communication, Tsinghua University.