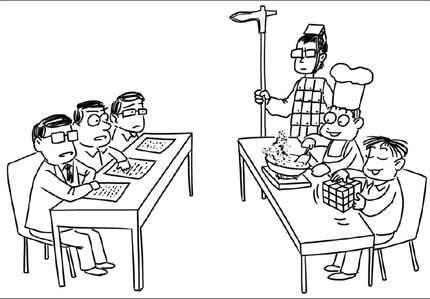 [By Zhou Tao/Shanghai Daily] 
"Which is more powerful - the Jade Emperor or the Tathagata Buddha?
"If you came into a windfall of one million yuan (US$160,000), how would you use it?"
"Imagine a typical morning 20 years later."
"Think of a way to sell this disposable cup for 500 yuan."
"What kind of plants would you use to characterize the Chinese people, and why?"
"How would you plan your life if you were returned to the Qin Dynasty (221-207 BC)?"
"Say something about how to cook rice mixed with fried egg."
These questions or tasks may at first strike one as ludicrous or facetious, but coming as they do from a panel of professors, the responses they elicit can decide whether student candidates can enter some of China's most prestigious universities. Specifically, for those lucky students who do "pass" these tests, the score bar is lowered on the notoriously difficult National College Entrance Exam.
These are just a sampling of some questions put to eager students during interviews conducted since last year. In a reform initiative started in 2003, a few select universities are given limited flexibility in recruiting freshmen by administering two tests - one oral and one an interview - on their own. These test results are considered in addition to the standard matriculation test scores administered nationally or municipally.
Many parents are bewildered about the purpose of the tests.
They ask whether the tests aim to gauge the test-takers' ability to express themselves clearly, their sense of humor, their imagination, their versatility, or their personality.
Are elements such as appearance, the ability to talk glibly and personality sufficient grounds for discriminating against some academically qualified candidates?
Ironically these test questions themselves raise questions about the qualifications of the experts who pose them and evaluate the answers.
During one interview in early 2011 candidates for some universities including Peking University (Beida) were asked: "Give your thoughts on what is written in the Harvard Library: 'Please enjoy the unavoidable suffering'."
It was revealed later that Harvard Library never used this aphorism. Investigation later traced it to a bestselling book "Allocutions on the Wall of the Harvard University Library" (2008) by Danny Feng, who later admitted to having fabricated these aphorisms on his own.
The gems of wisdom also include "This moment will nap, you will have a dream; But this moment study, you will interpret a dream," which was used in an ethics test in a middle school in Shandong Province early this year.
Another proverb that has inspired many is "Studies this matter, lacks the time, but is lacks diligently," meaning that in learning a subject, the real want is of strong will power, not time.
We have no idea how the panel of experts carries out research in their specialized fields, but these faux gems do suggest how credulous and snobbish they can be.
If they were not so enthralled by the halo they place around Harvard, they could simply open a copy of the Analects or Mencius and find hundreds of precepts more meaningful, more relevant, and of more epigrammatic polish.