Over the past 30 years, with the rapid development under reform and opening-up policies, many private enterprises in China have grown in size.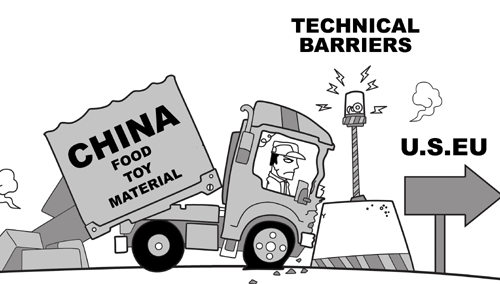 Technical barriers--obstacle to exports for China [By Liu Pei/China.org.cn]
The reform policies allowed more access to resources and investments by the private sector. Private companies in turn transformed their models and methods to increase efficiency and productivity, contributing to the rapid economic growth in many fields.
However, since the turn of the century, China had started to realize there is a glass bottom to what it had thought was an unlimited supply of excess workforce from its rural regions. This would become problematic to its growth model supported by labor, whose cost has also been on the rise. To address the coming shortage of labor and other resources and maintain growth, China began issuing an excessive amount of currency, bringing along with it many other macroeconomic problems such as creating inflation and the real estate bubble.
In a recent joint report called "China 2030" by the World Bank and the Development Research Center of the State Council, it is said that China is undergoing a "middle income trap." The term refers to countries stagnating and not growing to advanced country level. Their per capita incomes range from US$2,000 to US$6,000, unable to make breakthroughs.
The core reason is that the factors used to boost economic development in the past are losing their effectiveness; therefore, new factors or developmental patterns need to be discovered and utilized as impetus for economic development. The report suggests that China is facing this challenge to increase its total factor productivity (TFP).
The goal of increasing TFP is not new, but 30 years since it was first proposed, we still have not seen real increases. This is mainly because of institutional obstruction. China must change its policies and institutional framework and establish an economic system favoring innovation and competition.
China has already done a lot of work concerning the institutional support for innovation. On one hand, the Third Plenary Session of the 11th Central Committee of CPC stated that we are establishing a market economy ruled by law, instead of a planned economy controlled by the government.
On the other hand, the institutional support for innovation from up to bottom has already begun. For example, more items have been included in the value added tax (VAT) in Shanghai, which reduced tax burden on service industries. And in Guangdong Province, recent reforms in enterprise registration simplified the procedures by allowing all lawful businesses to register. Reforms and innovations are taking places in many places.
By all the institutional reform and innovation undertakings made by central and local governments, we are possibly nearing a new developmental pattern that will herald a new economic growth period.
The author is a senior research fellow with the Development Research Center of the State Council, Baosteel Chair Professor of Economics, CEIBS.
(This article was first published in Chinese and translated by Guo Jiali.)
Opinion articles reflect the views of their authors, not necessarily those of China.org.cn.