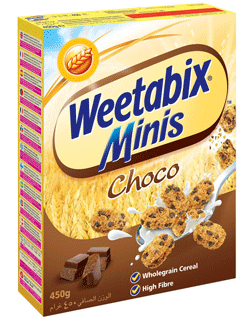 Package of Weetabix cereal [File photo] 
As a boy in England, my favorite breakfast cereal was 'Weetabix' (flakes of wheat compressed into a biscuit shape to which one adds milk and possibly sugar). My mother considered this to be a healthy start to the day, and surely nothing could be more typically British.
Wait a minute, though – it's now owned by China!
Gieves & Hawkes, the iconic British tailor that counts among its clients the heir to the British throne, Prince William, not to mention footballer David Beckham and former US President Bill Clinton, has had a shop on Savile Row, a street in London's fashionable Mayfair district for 240 years. Savile Row has long been synonymous with the elegantly-dressed traditional English gentleman.
A quintessential British company, then? Not any more - it's owned by China!
These two examples highlight the widening influence of Chinese capital in the global corporate structure. However they are also examples of how China must struggle to establish a multinational corporate presence, especially in the face of mistrustful Western governments.
After 70 years as a standard bearer for British foods (family-owned until 2004) and exporting to around 80 countries, Weetabix is now part of the Bright Food Group – a State-owned company under the Shanghai city government. The Bright Food Group paid £720 million (approx 7.3 billion yuan) for a 60 percent controlling stake of Weetabix, and in the process gained a quality breakfast product for the fledgling Chinese market as well as access to valuable distribution and retail channels throughout the West.
In the case of Gieves and Hawkes, it was merely a matter of exchanging one Chinese owner for another, with Wing Tai Company selling out to Hong Kong-listed Trinity Group for £60 million (approx 610 million yuan). .
Meanwhile, Lotus, another iconic British brand name famous for its sport and racing cars, also seems likely to enter the Chinese orbit after its present owner, the Malaysian government, decided it was time to sell.
Small wonder then that one of Britain's leading academic authorities on China, Cambridge University's Professor Peter Nolan titled his just-published book Is China Trying to Buy the World? However, he rather spoilt the impact of this eye-catching title by basically saying that one had to be cautious about making such statements! However, his caution seems justified, as there is ample evidence that Chinese companies – which usually means those under State control – experience great difficulties in acquiring corporate assets around the world.
Bright's success with Weetabix, for example, followed several abortive bids, including those for control of United Biscuits, a British-based multinational company, and the French Yoghurt maker Yoplait.
Those setbacks notwithstanding, there is obviously a higher chance of China gaining a toehold in the food and tailoring sectors – even when it involves national iconic brands – than in areas of the economy that host governments consider to be of "strategic" importance.
Take the example of the Australian government, which earlier this year blocked Chinese telecom giant Huawei from bidding for contracts involving establishment of the country's ambitious national broadband project. The Australian government's preventative action was reportedly due to concerns that Huawei – which has close links to the Chinese military – would take the opportunity to install software to spy on Australian communications.
Australian Prime Minister Julia Gillard insisted the government had acted in Australia's national interest, while China's foreign and commerce ministries condemned the move, calling it "discriminatory".
Gillard's action came shortly after two of Australia's biggest companies urged the government to recognize that a China-led Asia is now the global economic center of gravity and that, subsequently, the government should be more welcoming of investment, especially in infrastructure, to take advantage of opportunities to boost trade.
It does seem somewhat discriminatory that American investors are allowed to inject capital of up to A$1 billion in many sectors of the Australian economy without any time-consuming and potentially troublesome government scrutiny, while the threshold is only A$231 million for Chinese investors.
When a Chinese company tries to buy into or take over a company in an advanced industrialized country, the deal often seems to take a long time to go through and often comes under intense government scrutiny, which encourages a lot of negative reaction and emotionalism. In light of this, it's not surprising that there have been some high-profile failures.
Germany has long had a law allowing it to block any foreign takeover of a German company involved in weapons manufacture and related technologies. In 2009, the law was extended to cover all investments thought to "threaten German security", namely those from outside the EU and European Free Trade Association (EFTA).
The United States has also been unwelcoming of Chinese State capital in any "strategic area", especially that involving cutting-edge technology, although recent reports suggest some relaxation may be in the pipeline.
Apart from this, there is some reluctance among workers and their unions in America and Europe to "work for the Chinese" because of perceived differences in management practices.
It's not easy; yet, the world needs Chinese capital, so it should open the door wider to receive it.
The author is a columnist with China.org.cn. For more information please visit: http://www.china.org.cn/opinion/geoffreymurray.htm
Opinion articles reflect the views of their authors, not necessarily those of China.org.cn.