Editor's notes: Since reform and opening up, China's economy has sustained rapid economic growth over more than three decades, creating a remarkable "China Miracle," which has been praised by scholars and labeled "China's development model." However, despite its successes, the model has some negative effects. In this first part of a two-part series, Prof. Zhang Jinming from Jiangxi University of Finance and Economics examines the negative effects of this model, while noting the tremendous achievements it has made. Part two in which Prof. Zhang analyzes the serious challenges facing China's development model will be published tomorrow.
Although China's development model has led to some tremendous economic achievements, there have also been some negative effects.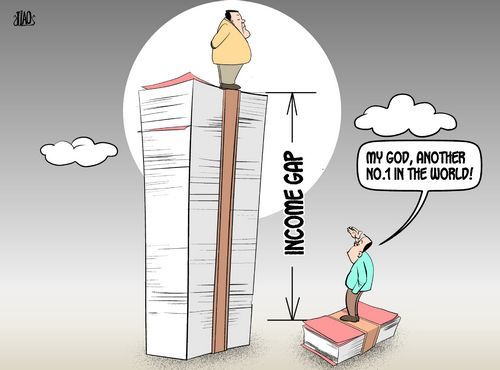 Income gap [By Jiao Haiyang/China.org.cn]
China's speed of wealth accumulation lags far behind the speed of economic growth.
Affected by the 2008 financial crisis, Europe, Japan and other developed countries are suffering from the impact of the economic slump. By contrast, China has maintained a high GDP growth rate of around 8-10 percent annually and this growth is set to continue for the foreseeable future. This is somewhat miraculous, even taking into account the entire history of global economic growth.
However, China's wealth is not accumulating at the same rapid rate. The reason for this is closely related with China's economic development model. Take the real estate industry for example. Over the past decades, high-rise office buildings, apartment blocks, and sprawling shopping malls have mushroomed in China, replacing the old buildings. Sometimes we even hear reports that newly-built hotel or buildings are demolished because their facilities can no longer adapt to peoples' needs. So what we see here in China is widespread, large-scale construction and a rapidly rising GDP. However, with the demolitions, the large amounts of wealth contained in the buildings are negated. Old factories are replaced by new ones. Ordinary trees are dug out and replaced with new, valuable species. The way to make way for the new by eliminating the old is nothing new in China. These practices will no doubt create more employment opportunities and promote GDP growth. However, the speed of wealth accumulation will certainly be greatly reduced. By contrast, capitalist countries such as the U.S. and UK, despite having a much slower economic growth rate than China, have a much more rapid speed of wealth accumulation.
Product quality has been neglected during China's high-speed economic development.
Usually, we use GDP to measure a country's economic growth rate. But real development and welfare standards can't be achieved through GDP growth alone. The quality of our final products and services are also very important. This is certainly a serious issue in China when we compare our final products and services to those in developed countries.
Over the years, despite repeated prohibitive measures, fake, substandard products can be seen everywhere. From alcohol, cigarettes and fake eggs to a variety of copycat electronic and clothing items, the reaction of consumers has gradually transformed from astonishment and anger to mere frustration and even resigned acceptance. These substandard products could result in serious economic losses, and some may even be health hazards.
The Sanlu milk powder incident exposed in 2008 shocked the whole country. The scandal ruined not only the reputation of China's dairy industry in the international market, but also almost all "Made in China" brands, and such cases continue to emerge. The food safety problem in China is causing growing attention and concern and it is now time for us to reflect on existing economic growth model.
China's employment growth rate is declining in spite of constant economic growth.
During the process of sustained high economic growth, China has seen its employment rate drop. From 1979 to 2009, thanks to the reform and opening up policy, China's annual employment rate grew at an average speed of 2.2 percent. But since the 1990s, the employment growth rate slowed down significantly. From 1991 to 2009, it declined to 1.0 percent. Since 2003, the number of registered urban unemployed has exceeded 8 million annually. Massive unemployment not only wastes valuable human resources but also has serious adverse consequences for both the unemployed and their families.
Compared with Western countries, China's unemployment insurance system is far from perfect with the majority of the unemployed not receiving unemployment benefits. For example, the number of registered unemployed urban residents in 2008 and 2009 was 8.86 million and 9.21 million respectively. The number of people not covered by unemployment insurance in 2008 and 2009 was almost 124 million and 127 million respectively. This means that only 16.0 percent and 16.3 percent of the labor force was covered by unemployment insurance in the years of 2008 and 2009.
China's income distribution mechanism is imperfect.
In the meantime, China is also suffering from a rapidly widening income gap.
At the initial stage of reform and opening up, Chinese residents' income gap was relatively small. The Gini coefficient, or the gap between the rich and poor, of rural and urban areas were 0.212 and .016 respectively, and this number has risen to 0.31 and 0.23 respectively. Since then, China's income gap has widened even further. As for the exact Gini coefficient in China, different scholars and research institutions have different conclusions: 0.4 according to the National Bureau of Statistics, 0.45 according to the Chinese Academy of Social Sciences and 0.5 according to Nankai University. It is generally agreed that China's Gini coefficient has exceeded the international warning level of 0.4.
The widening urban-rural income gap is another indicator of China's deteriorating income distribution. In 1978, the per capita disposable incomes of urban and rural households in China were 343.4 yuan and 133.6 yuan respectively. The urban-rural income ratio was 2.57 to1. The per capita disposable incomes of urban households in China continually increased up to last year, when it stood at 17,174.7 yuan, while rural household incomes increased to only 5,153.2 yuan. The ratio increased to 3.33 to 1.
Yet another indicator of China's deteriorating income distribution is the rapidly expanding income gap between different social classes. From 1990 to 2001, the income of the richest 20 percent in China increased by nearly 20 percent, while the income of the top poorest 20 percent fell by one-forth. And the income gap in cities is even starker.
China's economic growth is at the expense of the environment and resources.
In order to achieve sustained and rapid economic growth, China has paid a heavy price in terms of resources and the environment. The blue sky and fresh air which people used to take for granted in their daily lives have now become luxuries for urban residents. Asia's water and air are the dirtiest in the world, while China's environmental pollution problem is one of the most serious in Asia. According to World Bank's estimation, 16 of the world's 20 most polluted cities are in China.
When Chinese people enjoy the convenience and comfort brought by modern technologies, they also have to take responsibility for the pollution which ensues. Vehicle exhaust emissions and discarded electrical appliances (also known as "e-waste") all contribute to environment pollution.
E-waste has become a global issue and it is an even more pressing problem in China. China is now producing more and more electronic products, and there is also a lot of foreign e-waste being imported to China. This waste has a serious harmful impact on both the local living environment, and the health of citizens and the problem must be addressed.
The author is a professor with the Jiangxi University of Finance and Economics
(This article was first published in Chinese and translated by Li Huiru.)
Opinion articles reflect the views of their authors, not necessarily those of China.org.cn.