The GOP campaign to defund Obamacare that caused the government shut-down is reputedly led by Ted Cruz, a Republican senator from Texas, described as "the ruffian" by Elizabeth Drew, writing in the New York Review of Books. He is working closely with Jim DeMint, a former senator who became head of the conservative think tank The Heritage Foundation, and Representative Michele Bachmann (R-Minn), founder of the House Tea Party caucus.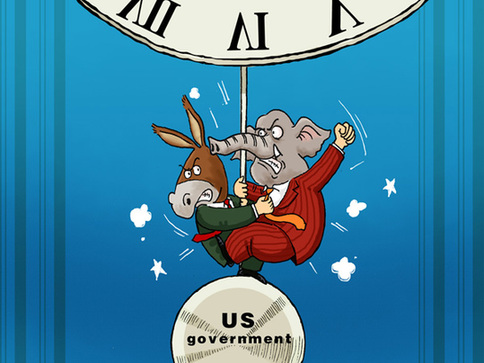 No time to fight [By Zhai Haijun/China.org.cn]
The campaign took months of planning. After Barack Obama's re-election in 2012, the Republicans continued to refuse to recognize his legitimacy. They could not reconcile themselves with the fact that an African American and a reputed liberal is sitting in the White House, and they opposed virtually all of his policy proposals, especially his signature achievement, the Affordable Care Law, which was passed three years ago with virtually no support from the Republicans.
The plan to defund Obamacare was drawn up by a loose-knit coalition of conservative activists, the "Conservative Action Project" headed by Edwin Meese III, Ronald Reagan's Attorney General, and signed by more than three dozen conservative groups. Almost all the conservative groups joined force to fight Obama. Heavily funded by the Koch brothers and other reactionary business moguls, they adopted a take-no-prisoners legislative strategy to cut off financing for the entire federal government.
As Michael A. Needham, the 31-year-old head of "Heritage Action," a coalition member, put it: "The House needed to use the power of the purse."
They were able to do this because of the 2010 midterm elections. Republican voters were worked up by Obamacare and the desire to curb government spending, especially the entitlement programs. Whereas many Democrat voters, disappointed in Obama, largely stayed at home. As a result, the Republicans gained sixty-three seats which gave them firm control of the House of Representatives. They also took control of governorships and state legislatures, including such important states as Ohio, Florida, Wisconsin, Pennsylvania and Michigan.
In the 2012 elections, Obama won the re-election, and although the Democrats got 1.7 million more votes than the Republicans, they only gained eight House seats.
So the GOP, guided by such notorious conservative figures as Karl Rove and Dick Armey, and model laws supplied by the American Legislative Exchange Council (ALEC), were not only able to shut down the federal government, but also reduce taxes for the wealthy, move to more comprehensive sales tax, reduce unemployment benefits, cut money for education and public services, and try to further weaken unions in states under their control.
But they went too far. All polls show their support tanked. Only 24 percent of the public support the Republican Party. The Tea Party fared even worse, garnering only 21 percent of public support. Obama and the Democrats did not suffer all that much. Public support for Obamacare actually increased.
As the GOP is under heavy pressure, does that mean a solution is in sight? Not necessarily, because the diehard conservatives do not care about the consequences of their actions. Cruz, DeMint and Needham are even threatening conservative Republican senators up for re-election in 2014 Lamar Alexander of Tennessee and Lindsey Graham of South Carolina for opposing the government shut down. Both face Tea Party challengers.
Senate Minority Leader Mitch McConnell also faces a primary challenge from a Tea Party candidate.
That is why so far McConnell and Boehner have not yielded to White House and Democrat demands.
The author is a columnist with China.org.cn. For more information please visit:
http://www.china.org.cn/opinion/zhaojinglun.htm
Opinion articles reflect the views of their authors, not necessarily those of China.org.cn.