The recent trial of Chinese mafia billionaires Liu Han and Liu Wei has exposed the shocking degree of their influence on local governments.
How to prevent government officials from seeking rent with public power and prevent businesses from bribing authorities is an urgent and difficult task in a transitional China. Persistent and steady efforts are needed to solve the collusion between capital and public power which is rooted deeply in Chinese society.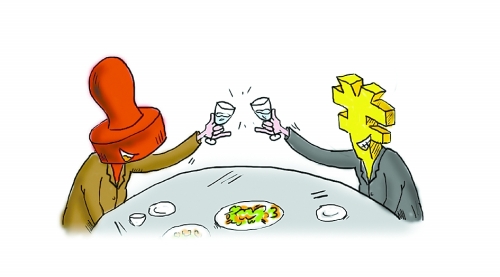 [By Zhong Tao/Guilin Evening News]
Back in the days of the planned economy, there was serious corruption among officials. But at that time, all the goods produced were state-owned or collective-owned. There was no private capital. Therefore, corruption was limited and could be exposed easily as corrupt officials gained material pleasure directly with their power in hands.
Since the reform and opening-up after 1978, the Chinese economy has rapidly marketized with the growing power of capital and currencies. However, political authorities still control the micro-economy. As local governments began to shift their focus onto economic development, the collaboration between power and capital has been growing closer and closer. Rent-seeking has flourished and has produced new vested-interest groups.
Senior officials in the ruling party have realized the collusion, and media and public opinion have criticized the problem time and time again. But it has not been eradicated yet. There are three reasons for this:
First, local governments are accustomed to using administrative power to manage society and guide economic development. Throughout a history of more than two thousand years, everything in Chinese society had been put under the rule of administrative power. And since the establishment of the planned economy in 1950s, almost all the economic activities were directed by the authorities. When society changed from a planned economy to a market economy, authorities were still active in economic fields. Therefore, rent-seeking and seeking power through capital were unavoidable phenomena.
Second, rapid economic development has been the priority of local governments in various levels for a long time. High-speed economic growth is not sustainable without capital. Therefore, many local governments see investment promotion as a task above all others, which also caused the influence of capital on political power. But under such circumstances, the rule of law, social justice and ordinary people's interests have become victims of the collusion between capital and power.
Third, the reform and opening-up policies liberated private businesses and capital, with great support from the government. These fields had been repressed for a long time. However, capital, like power, tends to expand without restriction, except where there are legal restrictions. But criticism of illegal business operations can easily be seen as ultra-left views or retrogression in reform, while blaming the government for capital breaking the legal framework seems to be political correct. Therefore, public opinion usually criticizes public power, but seldom criticizes bribery in capital.
Hence one can see that to resolve the collusion between public power and capital, it is necessary to institutionally separate the two, firmly reform the mechanism by which administrative power guides everything and gradually establish a modern state governance system. Meanwhile, it is necessary to strengthen legal supervision of both the public power and capital, regulating the execution of public power and the growth of capital by legal means. Only by putting both the public power and capital in a cage can we prevent such collusion.
The author is a researcher with the Chunqiu Research Institute.
This article was first published in Chinese and translated by Li Shen.
Opinion articles reflect the views of their authors, not necessarily those of China.org.cn.