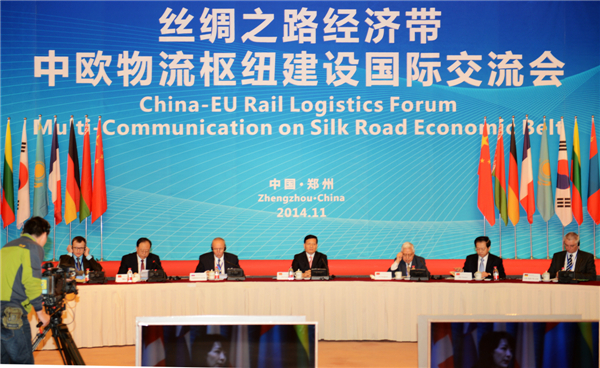 More than 500 delegates and entrepreneurs from countries along the Silk Road Economic Belt attended the China-EU Rail Logistics Forum Multi-communication, in Zhengzhou, capital of Central China's Henan province, Friday. [Photo by Xiang Mingchao/provided to chinadaily.com.cn] 
The Silk Road Economic Belt and 21st Century Maritime Silk Road strategic initiatives are China's important step toward countering the containment policies of certain Western countries, ensuring safe navigation, improving relations with relevant countries and maintaining security.
The initiatives are also a strategic move toward gradual assertion of China's presence in the Asia-Pacific region and boosting multi-polarization in the context of economic and social development. If properly implemented, the initiatives will help build China's image as a rising nation that is ready to undertake more international responsibilities and protect its territorial integrity.
The 21st Century Maritime Silk Road initiative is the result of China adapting to the trend of the times. Given that the ancient Silk Road passed into history with the gradual decline of the Chinese empire and the rise of Western countries, a rising China now needs to use new concepts and take new measures to better contribute to regional and global development in order to build a stable and secure world. Also, the implementation of the "road" initiative is expected to help restore the lost glory of Chinese civilization.
From the perspective of China's need for fuels and other resources, there are different countries with different geographical characters and importance along the 21st Century Maritime Silk Road. And because Southeast Asian countries hold key positions on its vital maritime trade route, China must appropriately handle relations with them, especially to ensure that the South China Sea disputes do not affect its ties with the ASEAN. Plus, China should increase its involvement in the multi-national cooperation related with navigation safety in the Strait of Malacca.
To better implement the well-conceived initiative, China should also try to develop good relations with South Asian countries. Considering India's enormous development demands and its huge market, it should use the huge potential for bilateral (maritime) cooperation to improve ties with the South Asian country. And since the Middle East is a major source of its oil imports, China also should maintain good ties with the countries in the region. Besides, it should consider participating in their economic reconstruction, particularly because US combat troops have now withdrawn from Iraq and Afghanistan.