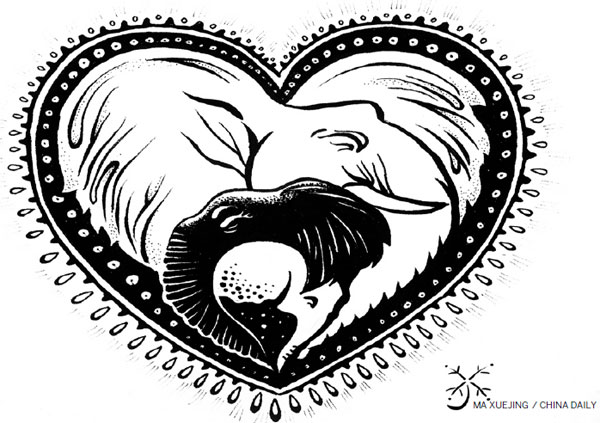 Prince William's visit to Xishuangbanna of Yunnan province will attract widespread attention to China's protection of wild elephants. However, some Western media have chosen to criticize these efforts, despite the very difficult nature of this task.
In China, Asian wide elephants use habitats in the remaining fragmented seasonal rain forests and evergreen forests in southern Yunnan province that border Myanmar and Laos. It is estimated that the wild elephant population in China ranges from 221 to 245.
This distribution contrasts markedly with the large continuous range that elephants occupied in the 1970s and 1980s, and human activities have strongly impacted elephant behaviours, including movements and migration patterns.
Within the past four decades, China has undergone major economic changes, which have affected many endangered species, including Asian elephants. Today, the key challenge for conservationists is how to balance elephant protection with local development.
Deforestation is the main cause of the habitat degradation and over the past four decades, extensive removal of forests and reclamation of farmland has fragmented the elephants' habitat. The elephants' traditional habitat area has contracted and become fragmented by rubber plantations and farmland.
Human-elephant conflicts have thus appeared to be due to competition over land resources. Over the past five decades, the demand for economic development has encouraged farmers to convert natural forests to farmland.
The Asian elephant is a Class I National-level protected species in China, and local minorities used to believe that elephants were symbols of luck, however, the competition between humans and elephants over the limited land resources has negatively affected both species.