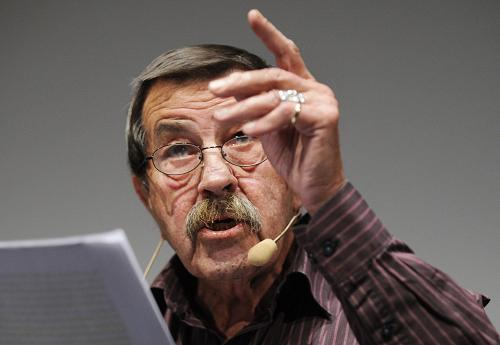 German writer and Nobel laureate Guenter Grass reads an excerpt of his novel "The Tin Drum" accompanied by a percussionist at the 61st Frankfurt Book Fair in Frankfurt October 16, 2009. As it was confirmed on April 13, 2015 by his publishing house, Grass has died. [Xinhua photo]
Günter Grass died on April 13 at age 87. He was one of Germany's greatest modern writers, but he was also an illustrator and a sculptor. Grass used his literary influence to speak out on burning political issues of the day. He was passionate about the struggle for peace. "We as people are only here for a short while, but it appears that we are determined to develop the means to end our existence on this planet," he said.
Grass was born on October 16, 1927. He grew up in Danzig, the city that is now called Gdansk and is part of Poland. His father was a grocer, but his mother was artistically inclined. As a child, Grass was raised on Hilter's ultranationalist ideology, and at 17, he joined an elite Nazi unit, the Waffen-SS, serving in a tank regiment during the last year of the war. In their first military engagement with Russian forces, about a third of those in his unit – all young teenagers like himself – were killed. From that time on, he lived his life acutely aware that "I am only here by chance." In 1945, the Americans captured him. In the years after the war, he worked in a mine and received training in stonemasonry.
In 1956 he joined a radical literary circle called the 47 Group, which was formed in 1947 after American occupation forces banned their democratic and anti-Nazi journal. Grass's first and most influential novel, "The Tin Drum," was published in 1959. It slammed the Nazi regime and ideology through realistic yet magical representations of the life of a child called Oskar who has an adult's brain. Oskar decides to stop his body from aging and observes the barbarities, loves and vicissitudes of everyday life during wartime Germany and its aftermath. Oskar is eventually locked up in a mental asylum after being falsely accused of murdering his sister. The Tin Drum was a huge success in Germany and internationally, securing Grass's financial position and allowing him to weather the storms of controversy that his work and political engagement would provoke.
Grass disliked nationalism and often contemplated the wonders created by the intermingling of humanity in Europe. By doing so he tried to take apart the nationalism that had dragged the world to the edge of annihilation.