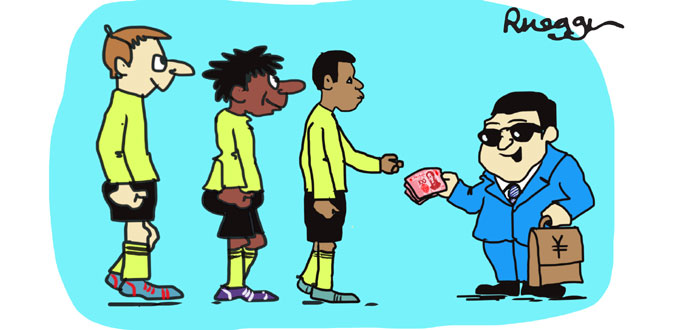 Illustration by Robert Wiggin
At present there are rumblings in Europe regarding football ticket pricing, most notably in England and Germany, with many decrying the fact that football is increasingly becoming more about profit and less about the fans. Arsene Wenger, manager of Arsenal FC, stated that any money that clubs in England make as a result of the latest television deal for Premier League broadcasting rights is unlikely to benefit fans and instead will help English teams remain competitive in the transfer market. This is certainly a preposterous stance to take with the amounts of money that English clubs are due to earn as a result of playing in the Premier League, but Wenger may be right about the level of money required in order to entice big names in the future.
One need only look at the Chinese domestic league and the recent transfer market business to see what Wenger was alluding to. As the longtime Arsenal manager has himself stated, clubs in the Chinese Super League (CSL) "have the financial power to move the whole league of Europe to China, and we are in this job long enough to know that is just a consequence of economic power, and they have that." Going forward, therefore, if Chinese teams continue to spend as they have been doing recently, top European clubs will have to up their wages if they want to prevent money-minded players from going east.
More than a handful of Chinese clubs, and not necessarily the most successful ones, are once again opening their wallets in an effort to attract top names in a move reminiscent of the Didier Drogba/Nicolas Anelka farce, which began way back in 2012 and fizzled out soon afterwards. At the time, Drogba and Anelka's arrival in China, as well as a number of other world class players was meant to ignite the game domestically and create a buzz for the league outside of the country's borders. It did neither and was ultimately a costly error for the clubs involved.
But the difference between then and now is that Chinese clubs, for the most part, are not only buying older players who are looking for one last pay day. Instead, they are also aggressively going after talent who are in their prime. In the January transfer window of 2016, spending by Chinese clubs, amounting to more than 198 million pounds at the end of the Chinese New Year, exceeded the total spend of English Premier League clubs by some 20 million pounds. And this figure could rise as the Chinese transfer window lasts until February 26. In comparison Chinese clubs spent 83 million pounds in the last transfer window. Sven Goran Eriksson, the former England manager who is now reportedly earning 15 million pounds a year after tax at Shanghai SIPG, has stated that money is the primary reason as to why players would opt to play in the CSL, and the clubs themselves have certainly embraced this idea.
This year, Atletico Madrid sold Jackson Martinez to Asian champions Guangzhou Evergrande for 31 million pounds. Martinez has joined former Tottenham man Paulinho who moved to the club last summer for 9.9 million pounds. In January, Gervinho left Roma to join Hebei China Fortune, a club founded only five years ago, as part of a deal believed to worth more than 13.5 million pounds. Ghanaian star Asamoah Gyan moved to Shanghai SIPG for an undisclosed fee, but one can assume that that fee was nothing to scoff at considering that Gyan will reportedly earn 227,000 pounds a week, making him one of the world's highest earning players; a remarkable feat for a player considered a flop in the Premier League.
But the list does not stop there. Jiangsu Suning paid 20 million pounds for an out of favor Ramires from Chelsea and a further 37.5 million pounds on Brazilian midfielder Alex Teixeria, bought from Ukranian club Shakhtar Donetsk. The latter is considered as something of a coup, as Teixeria was considered one of the better players in Europe, as opposed to a large number of the league's other signings who were unsettled or simply not in the long term plans of their previous managers. But what is allowing clubs to do this and what are the reasons behind the splurge?