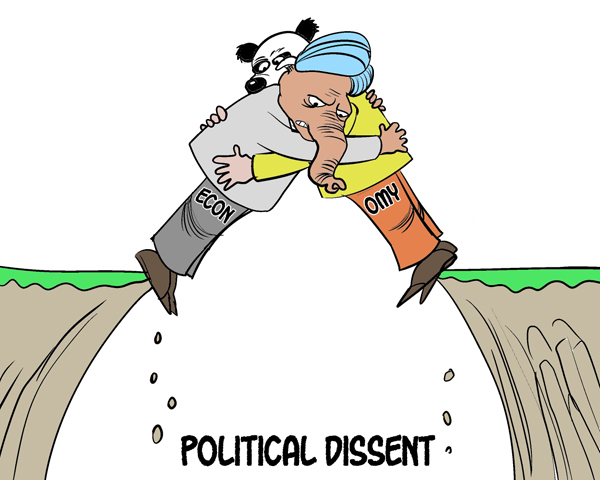 Bearhugging [By Jiao Haiyang/China.org.cn]
Last one decade has witnessed a remarkable turnaround in India-China economic relation. From a trickle US$2 billion in 2001, the combined trade volume between two Asian giants has galloped to US$70 billion. Experts believe the figure to touch US$100 billion by the end of next fiscal year. China has emerged India's largest trade partner (individual country).
Yet considering the size and scale of two economies and their geographical proximity, this is still a drop in the ocean. The Chinese mainland's trade with tiny Taiwan is more than US$197 billion. For various reasons, mostly owing to the memories of 1962 border clashes and long standing boundary disputes, economies of these two neighbors are probably least integrated ones in the world.
For various reasons, Chinese companies routinely complain the long bureaucratic procedures and frequent "security" concerns raised by Indian officials while clearing projects. There are issues of getting visas and work permits for professionals and workers. Some Chinese giants like Fosun have spent years of time and money to enter Indian market, but still caught up in the web of bureaucracies and official dilly dallying in India. Of course, there are instances in which Indian business professionals and private enterprises too complain about trade barriers and business freedom in China.
Yet, the biggest barrier to a robust economic relation comes from the growing trade deficit between economies. While India exports to China touched over US$15 billion in 2015, it imported a mammoth US$62 billion in the same year, thereby incurring a deficit of US$47 billion. Such trade deficit accounts for more than quarter (27 percent) of country's fiscal deficit.
As usually, such trade imbalances have impacted the bilateral relations between two countries. Often, Indian policy makers resort to taking anti-dumping measures to stem Chinese imports and this has led to retaliatory measures from China. On the whole the two Asian giants have failed to capitalize the advantage of geography and opportunities of scale.