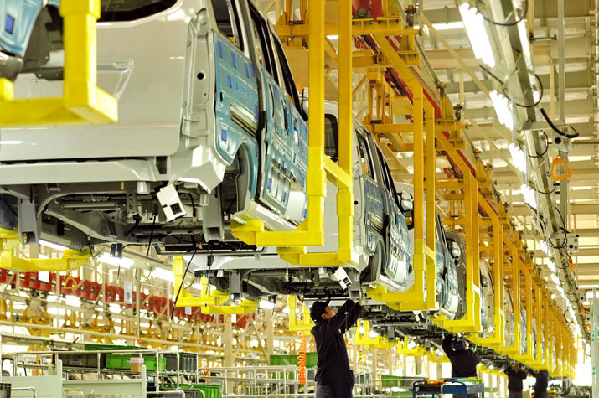 A worker checks a vehicle at an assembly line of BAIC Motor Corp.'s factory in Huanghua, Hebei Province, on March 22 [Xinhua]
After 30 years of reform and opening up, the development achievements of China's economy have been widely praised by emerging economies. More and more developing countries began to garner experience from China's economic reform and development, and some countries even started to implement their own economic development programs following the Chinese example.
Therefore, it seems necessary to discuss China's experience during its economic reform and development, and what kind of experiences have reference value for other developing countries, especially those emerging economies which have developed well. In my mind, there are at least three aspects of Chinese experience valued to be learned from.
Firstly, in emancipating the mind and seeking truth from facts, you must strive to understand both yourself and others. In the context of national economies, understanding yourself correctly is to objectively and comprehensively understand the basic national conditions of a country, including natural resources, labor forces, capital and other natural endowments as well as major problems in the process of development and their main causes.
To understand others, it is necessary to systematically analyze countries of various types at different developing levels, and objectively judge the relationship with them based on comparability, diversity and complementarity. What is particularly important is that comparative advantages and their stages of development of different countries should be researched thoroughly and intensively, which is a precondition for countries to learn from each other.
Secondly, creating an economic development strategy based on this correct understanding is paramount. Economic development strategies involve a range of disciplines, the most important of them is to make suitable industrial policies, which is crucial to promote economic development in developing countries. To achieve continuous economic development, developing countries have to promote industrial upgrading through technological innovation. Upgraded industries must operate in line with the national endowments and comparative advantages of a country, so as to keep production costs at a low level across the world.
However, the level of infrastructure, the business environment, legal system and the administrative efficiency of most developing countries are relatively low while transaction costs of enterprises there are relatively high. To improve the competitiveness of their products in both domestic and international markets, developing countries have the only way of cutting down transaction costs.
What can they do then? Governments have to improve infrastructure, business environment, legal systems and administrative efficiency; however, since the resources and administrative capacity of a government is limited, it therefore calls for industrial policies. Suitable industrial policies can centralize resources and efforts, build industrial parks and special economic zones, and enable industries to lower their production and transaction costs in a "not-so-good environment."
Finally, during the process of taking these two steps, we should learn our lesson from two development trends. One is the structuralism which appeared in the 1960s and 1970s and led the governments of developing countries to exert too much influence in economic activities, consequently restricting their social and economic development. The other trend is neoliberalism which aroused in the 1980s and 1990s, and radically and one-sidedly opposed the government's role in economic restructuring, causing failure to address market malfunctions.
To pursue a sustained, rapid and healthy economic development, both an efficient market and responsible government are needed. Through market competition, relative prices are decided by a relative scarcity of different elements, so as to make market play a decisive role in the allocation of resources. A responsible government is beneficial to overcome market failures, and break through the bottlenecks restricting industrial upgrading and infrastructure development.
Successfully dealing with the relationship between the government and the market is the theoretical core of my new structural economics. It is a lesson for developing countries to take from China's reform and economic development.
The author is an economist at Peking University and a former World Bank chief economist.
The article was written in Chinese and translated by Lin Liyao.
Opinion articles reflect the views of their authors only, not necessarily those of China.org.cn.