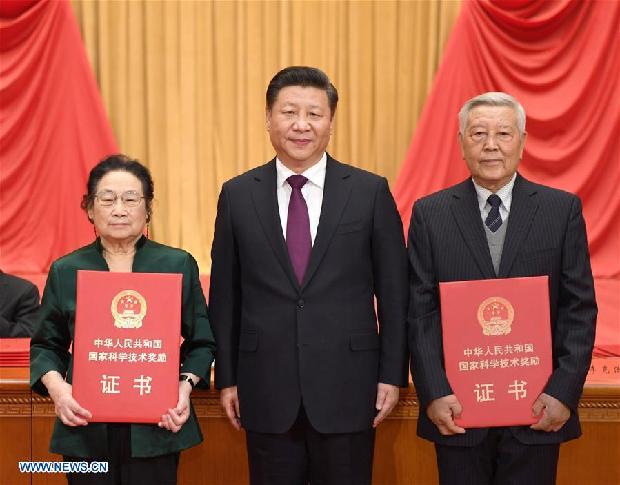 Chinese President Xi Jinping (C) presents award certificates to physicist Zhao Zhongxian (R) and pharmacologist Tu Youyou, who won China's top science award, at an annual ceremony held to honor distinguished scientists and research achievements in Beijing, capital of China, Jan. 9, 2017. (Xinhua/Li Xueren)

 On Jan. 9, Chinese President Xi Jinping welcomed the country's top scientists and innovators to the annual science and innovation awards ceremony at the Great Hall of the People in Beijing, a tradition that honors distinguished scientists and research achievements. The most prestigious recipients of the State Preeminent Science and Technology Award, 2015 Nobel laureate Tu Youyou and academician Zhao Zhongxian, were awarded prizes for fundamental contributions to pharmaceutical science and sustained breakthroughs in superconductivity research.
It is encouraging that the country's senior officials are highly supportive of continued investment in science and innovation, demonstrated by the fact that both President Xi and Premier Li Keqiang were present at the ceremony. Indeed, science is seen as a valuable pursuit by the higher echelons, and science and innovation budgets have been increasing annually for quite some time now.
This high level of support likely originates from the backgrounds of numerous government officials and of the country's senior leadership, many of whom hold science or engineering degrees. As a consequence, and of course also because of the relatively strong Chinese economy, the funding landscape for both basic and applied research is healthy - in particular compared with the rather dire funding climates in the USA and Europe, where success rates of grant applications have dropped to the single digits in some fields.
The award ceremony in Beijing highlighted many of the nation's recent key achievements through prizes dedicated to the three "big awards," including the Top Natural Science Prize, the Prize of Science and Technology Invention and the Science and Technology Progress Award. Seven individual scientists, including five foreign experts, 279 domestic projects, and an international collaboration with the International Maize and Wheat Improvement Center, headquartered in Mexico, received well-deserved recognition.
The headline-grabbing prize projects were, however, largely dominated by achievements in applied science and technology. While these have the potential to lead to tangible results that may feed into the country's increasing GDP on short and medium timescales, it is crucial for the nation's development of a healthy, internationally competitive science base that sustained support of the basic sciences - so-called "blue skies" research - is reflected similarly through high-level recognition.
Sustained investment in blue skies research reflects a long-term vision that goes beyond immediate economic returns. History has taught us that some of the most important breakthroughs in science have come from speculative, curiosity-driven research. Assessment of projects entirely on their economic potential has a stifling effect on a country's research output. Our colleagues in countries such as the U.K. are, unfortunately, all too familiar with the unintended and often devastating consequences of government policies that favor applied over basic research.
Indeed, there are numerous examples of unexpected applications resulting from curiosity-driven research. To name but a few, research in the early 20th century of reactions between ions and molecules in the interstellar medium - the gases that occupy the space among the stars - led to the development of a technique to measure trace gases. That same technique is now used as a non-invasive method for clinical diagnosis and therapeutic monitoring, including for breath testing and also for pollution monitoring. It has found additional practical applications in animal husbandry, specifically for measuring the release of noxious gases from animal waste and the sulphurous gases and fatty acids emitted by cows.
Technological developments aimed at supporting blue skies research are often translated into real-world applications soon after their development. As a case in point, precision cameras developed for gamma-ray astronomy are now routinely used to screen cargo containers for radioactive materials at airports and other security-sensitive areas.
Second, so-called "superconducting tunnel junctions," which are used on telescopes to measure low levels of radiation, are undergoing development to detect fluorescence from tagged biological materials. This will improve DNA identification in medical and forensic techniques such as genetic profiling.
And indeed, one of the most successful imaging devices of recent decades has been the charge-coupled device, or CCD, developed for astronomy and particle physics and now found in cameras everywhere, including common mobile devices.
Finally, the technology of "adaptive optics" has been developed to compensate for the blurring of starlight by the Earth's turbulent atmosphere. It has been warmly welcomed in medical optics, where its uses include imaging the retina in unprecedented detail - which allows for the early detection of diseases and abnormalities - and enhancing vision.
For Chinese science to become and remain a crucial player on the world stage, it is indeed imperative that applied and basic research go hand in hand.
Richard de Grijs is a Dutch professor of astrophysics at the Kavli Institute for Astronomy and Astrophysics (Peking University) in Beijing.
Opinion articles reflect the views of their authors, not necessarily those of China.org.cn.