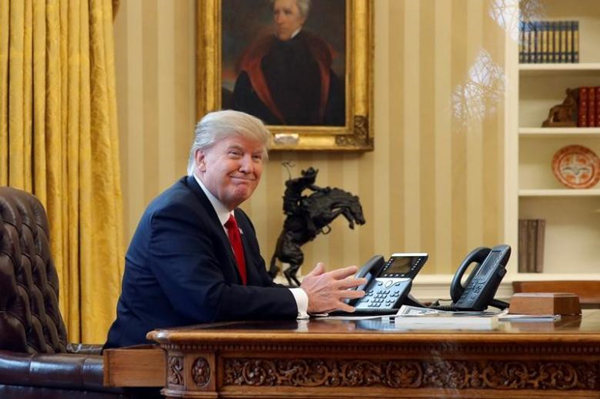 US President Donald Trump in Washington, January 29, 2017. [Photo/Agencies]
Three months after being elected US president, Donald Trump made the wise decision to honor the United States' longstanding one-China policy, affirming it in a phone call with Chinese President Xi Jinping.
The recognition that there is only one China has been US policy since 1979, when China and the United States established diplomatic relations. This evolved from their shared cause of fighting fascism during World War II, when both countries committed to returning Taiwan, which was at that time under Japanese occupation, to the mainland.
For China, Taiwan is an inalienable part of the country and a core interest with historical legitimacy.
It was based on the US' recognition of this that China and the US were able to normalize their official relations.
Since 1979, there have been seven US presidents, including Trump. From Jimmy Carter to Barack Obama, they all committed to the one-China policy. This doesn't mean that relations between the two countries have been conducted without ups and downs. Often when the bilateral relations have gone through a bad patch, Taiwan has loomed large. Then Beijing and Washington have had to work hard to bring their relations back on track, while deepening their understanding of the importance of upholding the principle of one China.
Obviously, maintaining the one-China policy serves the US' interests. Without a consensus on one China, peace will be endangered. And without peace there will be no assurance for development of ties.
The US' commitment to the principle of one China cannot be used as a bargaining chip with China, nor is it as a favor to China. Rather, it should be viewed as the US' rightful position.
Before his phone call with Xi, Trump had previously said that anything, including the one-China policy, was negotiable. He was wrong. China will bargain with his administration on trade and investment on a fair basis, but it will not bargain on its core legitimate interests.
Nevertheless, on the issue of legitimate US concerns and concerns of mutual interest, China is ready to talk. Trump's aim is to "make America great again", and cooperation with China can help him achieve this. The growing Chinese middle class is interested in seeing the US, as well as other foreign countries, and wants to buy high-quality US goods. With China's continuing economic growth and efforts to reform its foreign trade structure, more Chinese will be able to "buy America, and hire America". It is possible to correlate the Chinese dream of making the country rich and strong again, with Trump's dream of making America wealthy and secure again.
Trump is eager to honor his many campaign promises. However, he has already met a number of serious setbacks as some of his campaign rhetoric was out of touch with reality.
Nevertheless, as long as he is willing to learn and adjust his stance when necessary, he can avoid an unnecessary collision with China. He has to apply the same experience to other contentious issues between the two countries, and must handle the issues of the Diaoyu Islands and the South China Sea, as well as the trade balance between the two countries with prudence and a constructive not obstructive approach.
Again, China is ready to discuss all the pressing bilateral and regional security and development issues, but only so long as the US is interested in working with Beijing in a fair and honest fashion.
The author is a professor and the associate dean of the Institute of International Studies, Fudan University.