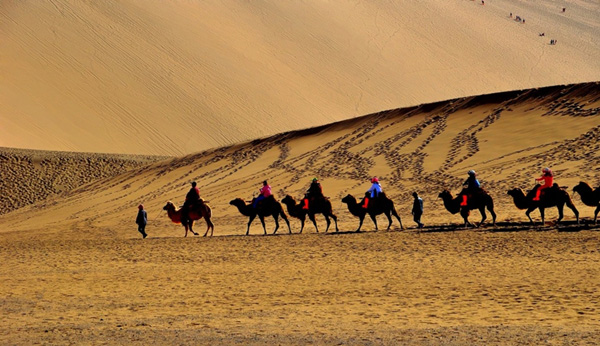 Tourists ride camels on the Mingsha Sand Dunes during a visit to Crescent Moon Spring on the outskirts of Dunhuang county of northwest China's Gansu province. [Photo/China Daily]
As the traditional termini of the Silk Road, China and Turkey, have much potential for cooperation. In regard to national prosperity, they share the same perspective: Trade brings prosperity, which is why Turkey is an enthusiastic partner in the new Belt and Road Initiative.
From Turkey's perspective, China is already a significant trade partner, ranking in the top 10 with regard to imports. Similarly, Chinese companies have been investing in various infrastructure projects such as major ports. Even though Turkey is only a minor trade and tourism partner -- less than 2 percent of Chinese exports reaching Turkey -- geographically it is a major geo-economical partner, providing secure land and sea access to the European economic sphere.
Despite the favorable economic climate and strong desire to improve trade ties, Turkey presents several unique challenges to Chinese investors, such as political unrest, cultural and religious differences and disparate perspectives on international politics.
In 2015, meeting a representative of a Chinese railway company at a workshop in Beijing on investment in high speed railways, valued at several billion dollars, one of the writers was told the biggest risk in the industry was political risk -- a host government unilaterally cancelling a deal. However, Turkey's president, in seeking closer collaboration with China through a number of agencies such as the Shanghai Cooperation Organization and the Asia Infrastructure Investment Bank, has been following pro-China politics as best as he can.
Recently, the biggest source of conflict in Sino-Turkish relations has been spillover from unrest in the Xinjiang region. Due to shared language and religion, a majority of Turkish people feel strongly connected to the Uygur minority in northwest China, but few understand the realities there.
In the summer of 2015, the Turkish social media was flooded with fake images of racial conflict, that depicted Xinjiang as a war zone, setting off an emotional bomb among right wing nationalists and conservative religious groups. The resulting public rallies and violence against East Asian people was a tragic reminder of the destructive power of social media.
Unfortunately, both Erdogan, who appeals to religious conservatives, and the MHP, the nationalist right wing party in parliament, failed to denounce the violence in the streets. Erdogan's visit to China soon after these events, and his reaffirmation of his respects for the territorial integrity of China, was helpful, but the president walks a fine line in trying to enhance ties with China.
The 2015 rallies were not the first time large anti-Chinese protests that took place in Turkey, due to unrest in Xinjiang, and they probably will not be the last. The question is: When President Erdogan finds himself pressed between these two opposing interests, what calculus of internal and external pressures pushed by religion and economic needs will he use? For example: The deterioration of Turkish-Israeli relations because of the Israeli-Palestinian conflict shows how strong religious pressures can be in determining Turkey's economic relations with other countries.
China has invested heavily in Confucius centers, media and educational exchanges to improve its image in Turkey. In the past, lack of awareness, of Chinese culture in Turkey, has made it easy for those looking to earn social or political capital, to exploit public sentiment using religion and race. Thus, China will need to do more to foster understanding between these two countries, linked by trade and history, but separated by culture and language.
The Confucius centers have had a strong positive impact in the educational institutions with whom they cooperate. Turkish university students appreciate the free education resources these centers provide. However, the impact of the Confucius centers, beyond the universities, is limited. There needs to be more active engagement and outreach by the centers to foster greater understanding of China, its history, culture and goals.
In terms of media, Chinese state TV networks, such as the CGTN, and CCTV 4, extensively cover both international news and insights into Chinese culture. However, state and private media in Turkey lack drive and capacity to provide similar services. Increasing collaboration with established media in Turkey, by providing translated programs, could help improve the Turkish people's understanding of China. Given the success of Korean dramas and Japanese pop-culture in Turkey, Chinese cultural products could prosper as well.
Finally, cultural and educational exchanges between China and Turkey need to increase through more educational exchanges efforts.
Strategically, Turkey is a member of NATO, but flirts with the Shanghai Cooperation Organization. The ambiguity of the approach, like many of its domestic policies, can be difficult to sort out, unless you understand the political background. At this time, President Erdogan's ties with both the U.S. and the EU are deteriorating, making Chinese security and political support more attractive. However, it is not clear how comfortable non-interventionist China will be with Turkey's aggressive military efforts in Syria, against Bashar Assad and the Kurds.
Turkey and China largely agree on the global economic policy of encouraging free trade as the driver of economic growth, but they differ in worldview. China looks for non-judgmental win-win cooperation with any country willing to respect its core interests and treat China as an equal partner.
Turkey is economically less focused and easily sidetracked by religious, territorial and political disputes of the Middle East. The two countries need to work on understanding, communication to bridge the gap.
Einar Tangen is a political and economic affairs commentator, author and columnist
Deniz C. Ozensoy, graduate of University of Chicago, is a writer, researcher, and social commentator, doing research at Peking University.
Opinion articles reflect the views of their authors, not necessarily those of China.org.cn.