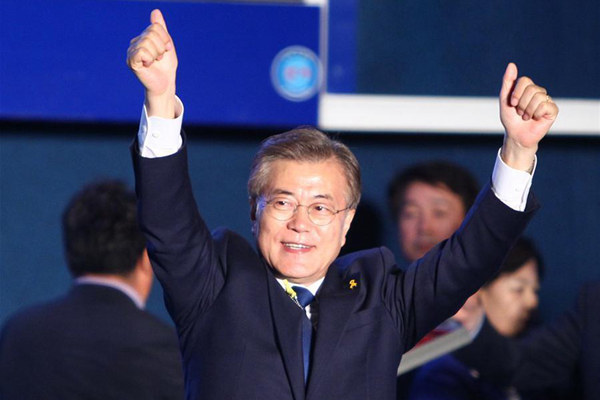 Moon Jae-in of the liberal Minjoo Party waves during a celebration event in Seoul, South Korea, on May 9, 2017. Liberal candidate Moon Jae-in of the Minjoo Party said Tuesday that South Korea's presidential election is "a great victory of great people" after most of local media outlets viewed his victory as assured. [Photo/Xinhua]
The election of a liberal, Moon Jae-in, as president of the Republic of Korea presents opportunities for Korean-Chinese relations to move to better ground.
Under the last president, the conservative Park Geun-hye, relations were somewhat rocky. After Park agreed to deploy THAAD, an American missile defense system, China blocked tour groups from visiting Korea and applied other informal economic sanctions. China views THAAD as a threat to its own nuclear deterrent, because the Korea-based long-range radars had the capability to penetrate Chinese territory.
Moon brings to office a desire to improve relations with China and is expected to take a less tough line on North Korea than Park. However, it's less clear what specific policies will emerge when his stated views are translated into practice.
For example, it had been the position of his Democratic Minjoo Party, and of Moon himself, for the past year to oppose the THAAD deployment. However, when he was campaigning, the position became somewhat muddled. Rather than take an advance position on the issue itself, he simply said the next president should decide.
Now that he is the "next president," he may very well decide to keep the system, given that it has already been deployed and it could damage relations with Korea's closest ally, the U.S., to change course.
The fact is, whatever Moon might want to do, he is going to be constrained by the political and security situation. It would be a lot harder for Moon to remove THAAD or to reopen the jointly-operated Kaesong Industrial Complex in North Korea at a time when the North continues to conduct frequent missile tests and threatens to conduct its sixth nuclear test.
Korean conservatives feared Moon was too weak to take on North Korea. He said he would visit his neighbor before visiting the U.S., and he refused to refer to the North as "the main enemy" during a campaign debate. While conservatives would consider these positions naive at best, his supporters view him as someone willing and able to negotiate a solution through diplomacy.
Much depends on how the U.S. and its irrational president comport itself. Trump had rhetorically threatened to force the ROK government to pay for THAAD -- much as Trump tried to get Mexico to pay for the border wall he wanted to build.
He has also talked about pulling out of the Korea-U.S. Free Trade Agreement. If he were to break a deal so early in Moon's administration, then why shouldn't Moon strongly consider breaking Korea's word on THAAD? Trump's actions could easily make Korea question the benefits it derives from the American alliance.
The optimistic view is that, as volatile as Trump is, his actions will also be constrained by politics, security concerns, and the smarter members of his administration. National Security Advisor H.R. McMaster, for example, reassured Korea that Trump really wasn't going to make them pay for THAAD.
It has become clear now that basically most of what Trump says is bluster entirely disconnected to reality. The U.S. hopes foreign countries will listen to McMaster, Secretary of State Rex Tillerson, and Secretary of Defense Jim Mattis instead.
Recent developments suggest China has indeed gotten tougher on North Korea in the past few months. If China, South Korea, and the U.S. are at least working from the same page, that could set the stage for possible talks. There is a long way to go, but now that South Korea is finally out of its impeachment crisis, it will have a bigger role to play.
Mitchell Blatt is a columnist with China.org.cn. For more information please visit:
http://www.china.org.cn/opinion/MitchellBlatt.htm
Opinion articles reflect the views of their authors, not necessarily those of China.org.cn.