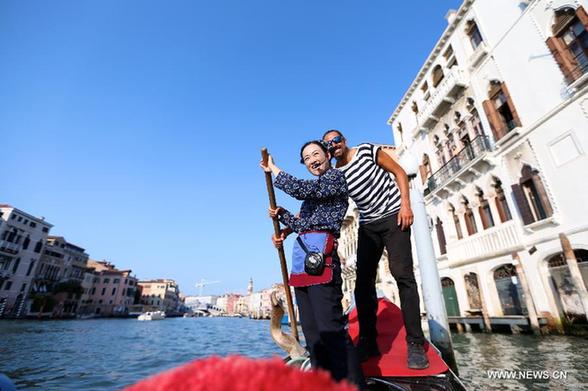 Wu Juan (front), a barge-woman from Zhouzhuang, sings Chinese tunes and rows along a canal with a gondolier in Venice, Italy, on July 21, 2015. During the Expo Milan 2015, China's Zhouzhuang holds a seminar in Milan and an event called "A Tale of Two Cities" in Venice to introduce Chinese culture of "Water Town". [Photo/Xinhua] 
A lot has been said and written about China's transformation from a largely rural and stagnant economy into a global economic powerhouse. This transformation has not only produced prosperity for the Chinese people but has also greatly benefited many other nations by expanding international trade, economic cooperation and investment.
However, much less attention has been paid to the cultural enrichment China has brought to the world, with an ever-growing number of young people who, especially in America and Europe, study Mandarin at school and choose Chinese Studies in their tertiary education, making China increasingly relevant in global culture.
One wonders now how such a refined and rich culture could go scarcely noticed for thousands of years. Of course, apart from Imperial China's self-complacent isolationism, there were compelling reasons like geographical distance and natural barriers that separated and "protected" China from the West.
There were a few notable exceptions two of which left an indelible mark in the history of the relations between Western and Chinese cultures. One was the renowned Marco Polo, a Venetian merchant who travelled to China in the 13th century and wrote a famous book that first introduced the West to Chinese civilization.
The other was Matteo Ricci, a highly educated Catholic priest who, four centuries ago, spent half of his life in China, becoming a scholar of that same civilization and a pioneer in the dialogue between Chinese and Western cultures.
They were both Italian and Italy is today one of the major European countries where the study of Mandarin in high schools is seeing rapid growth, being incorporated into the national curriculum and the national examination system. To gain a certificate of secondary education, Chinese language students have to pass a test in written and oral Chinese and also Chinese history.
Graduate and post-graduate courses in Chinese Studies are now provided by four Italian tertiary institutions – the University of Milan, the Cà Foscari University of Venice, the Sapienza University of Rome and the Orientale University of Naples; however, more universities are expected to follow suit.
The boom of Chinese studies is backed by a large organization called Intercultura which offers students the opportunity of spending an entire school year in China or shorter study periods in the summer. The number of applications increases every year and China is now the second main destination after the United States for student exchange programs.
For its part, China has been reinforcing this trend through the Confucius Institute program which is overseen by Confucius Institute Headquarters.
Eleven Confucius institutes have been opened in conjunction with local affiliate educational institutions and universities. The related Confucius Classroom program partners with local secondary schools or colleges to provide teachers and resource materials.
This support for Chinese studies abroad complements China's "Peaceful Development" strategy and the "Beijing Consensus" model, a concept based on a "win-win" approach to both economic and cultural co-operation.
On the strength of its ascendancy as the second largest world economy and the largest contributor to the global GDP, China is now undertaking a colossal project designed to create a global network of land and sea routes reaching Europe via Asia and other parts of the world as well.
The Belt and Road Initiative is inspired by the ancient Silk Road that Marco Polo followed eight centuries ago and Italy, as a natural and historical European terminal of the project, is keen on being part of it. That Italy was the only major Western country sending its head of government, Paolo Gentiloni, to attend the Belt and Road Forum for International Cooperation in Beijing on May 14-15, signalled its determination to lead the European Union into concrete forms of cooperation.
Elenoire Laudieri Di Biase ( Twitter account: @ElaudierLaudier ), sinologist from the university of Ca' Foscari and Melbourne University, Australia, is an expert on international diplomacy and psychoanalysis. Senior analyst on China at the Nato Defense College Foundation.
Opinion articles reflect the views of their authors only, not necessarily those of China.org.cn.