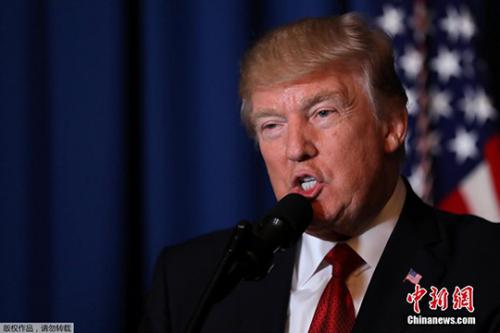 U.S. President Donald Trump [Chinanews.com]
In his recent speech in Poland, President Donald Trump gave some clues as to his stance on Islamic extremism as exemplified by "the barbarism of ISIS."
He said his fundamental aim would be to oppose any such extremism in the West, and for that he was willing to be a partner of any great power holding a similar view.
Behind the scenes, the Trump administration finally stopped funding so-called moderate rebels in Syria. In regard to what was only nominally a "clandestine" operation of arming anti-Assad rebels, Trump has done the necessary and thus provided a welcome return to sanity in Washington.
This is also a recognition that the approach was a strategic dead-end, a never-ending waste of efforts as many had long been warning. This is also a reflection from the failed Libyan intervention and a growing American reluctance about getting involved in the Middle East.
The arms delivery to the Syrian "rebels" had been slowing down since Trump came to power, and had almost stopped by the time the President spoke. Nothing was ever announced official, neither the start of the arming process nor its stoppage, but news leaked anyway.
To be fair, the Americans were not the only ones arming rebels in Syria. The major intervention was by Qatar and Saudi Arabia as part of a "bait and bleed" strategy against Iranian proxies and Shiite militias, we well as Russia's direct intervention.
The fact that Russians and Iranians have broader strategic interests, and would undoubtedly intervene, was not considered when the program started. Russian direct intervention ruled out any American intervention in Syria, and gave Assad a lifeline. Meanwhile, the race to Mediterranean started from Tehran.
With the emergence of ISIS and the break-up of the Nusra and Al Sham groups, there were essentially no moderate rebels left, as almost all the forces opposing President Assad were Islamists. The American-supplied arms largely ended up falling into the hands of Islamists as well.
This has an element of farce about it, as it has taken the U.S. a long time to realize that the arms it supplies to its foreign proxies inevitably seem to end up in the hands of the most extreme groups. That's one of the reasons why this doesn't work.
The arming of rebels, even by the most conservative estimates, has prolonged the civil war by three years, and, despite what neo-conservative pundits argue, actually led to the rise of ISIS.
Now, in Syria, photos coming out of Aleppo show residents without any forced headgear cooling themselves in swimming pools, something that would have been impossible during the rebel control, when Reuters reported the rebels creating starvation conditions by keeping all the food and medical rations for themselves during their failed resistance against government siege; this only ended when Russian bombing raids decimated the rebel supply chain.
One can only imagine, what would have happened if there had been no foreign intervention in Libya. North Africa was a beacon of stability compared to Mesopotamia, and Euphrates Basin. But the coastline is ravaged now due to interventionism.
There's lament in some circles that this constitutes a win for Putin. That's a wrong question to ask. The fact that this intervention and arming policy was a failure was evident since Obama's days. It's one good thing that Trump did, for whatever reasons, and which Hillary Clinton perhaps wouldn't have done.
Trump acted pragmatically, and, as a result, this might help in a return of saner foreign policy in Washington. Perhaps Trump accelerated the process of withdrawal of arms, as a part of a grand bargain with Russia, which is highly possible.
However, it doesn't matter in the grand scheme of things. There has been enough wastage of money, manpower, and weapons, not to mention the utmost misery imposed on civilians, and the insufferable mass migration it prompted.
Other great powers like China and India constantly warned against interventionism and infringement of sovereignty. It's about time this whole sorry chapter was put to rest.
Sumantra Maitra is a columnist with China.org.cn. For more information please visit:
http://www.china.org.cn/opinion/SumantraMaitra.htm
Opinion articles reflect the views of their authors only, not necessarily those of China.org.cn.