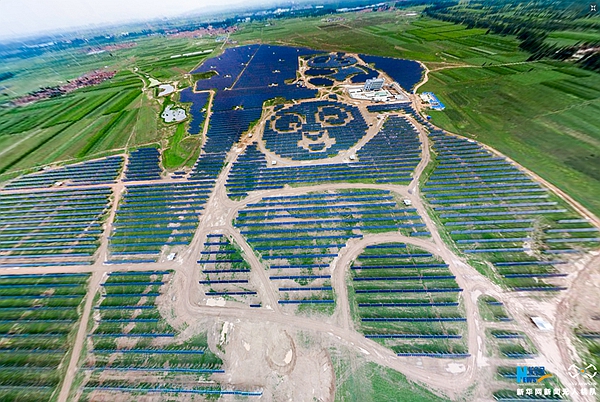 The panda-shaped power plant constructed by Panda Green Energy Group in Shanxi Province. [Xinhua]
In a seminar the other day, while in conversation with a few academics, I was asked to explain in one sentence, what is a better strategy in the developing world. I said, infrastructure, not intervention.
The logic is simple. Infrastructure is something that we retain, and enhances individual capabilities for growth, whereas intervention is temporary. In simpler terms, the latter is a top-down approach and the former is bottom-up.
In light of that, there's an interesting development. Panda Green Energy Group just constructed an unusually-shaped power plant, in China's Shanxi Province. The dark crystalline power plant, in the shape of a Panda, cost US$52 million to build, according to Panda Green Energy chief Li Yuan, as quoted by Reuters. The Hong Kong firm is in talks with countries including Australia and Italy for the construction of more such plants.
However, the importance of the Shanxi plant lies elsewhere. There are plans for extending the Panda concept along the routes of the new Belt and Road Initiative in future. All of these 100mW power plants are expected to generate 3.2 billion kilowatt-hours (kWh) of energy over a quarter century of operation, providing power to some 10,000 households over that period. One can only imagine how much this will be needed in Central Asia.
This provides an important lesson in strategy and history. History, as we know, tends to repeat itself even without us knowing it. It is said that China lacks the soft power of the West. In the era of the global supply chain, soft power is essentially mute. For example, the iPhone might be a product of the West, but without the 75 percent content of Chinese parts, it is redundant.
There won't be any production of a phone if the production is undertaken in the West, as the production cost would rise significantly. That said, the power plants in the shape of a panda are a remarkable example of soft power as any. A symbol of energy production using the State symbol of China is a significant development.
Historically, there have been two ways to achieve influence and development in the world. One is by conquest. This leads to a change in the top order, a new government. It is the top-down approach.
In ancient times, Alexander the Great tried to take that road. The modern manifestation of that is regime change. Yes, of course there's development that happens in that way, but it mostly is a top-down and incremental approach. The reason is simple: In a top down approach, the interests of the new rulers are always paramount, but that tends to hamper development projects.
In fact, most such projects essentially end in an influx of further foreign aid, which is squandered through corruption, which leads to further destabilization and then either further intervention, or a mass exodus of people migrating to another country.
The other way is to build infrastructure. Historically, there were empires that invested massively in infrastructure. The Roman Empire is a perfect example, and Roman roads and architecture form the backbone of Europe from Britain to Tunisia and on to Turkey.
In colonial times Britain took the same approach to empire. Although the colonial, imperial days are gone, the approach of rapid infrastructure building is still the best and valued way. The regimes go away, but the legacy remains.
China's larger Belt and Road Initiative is being developed along an historic arc. This initiative aims at making China the leader of external affairs alongside Asia, underscoring 5 trillion dollars of investment in 68 countries including roads, bridges, power plants, gas pipelines, railways, and ports.
There will be times when China will need to defend her interests, and accept a security burden across the investment corridor. Amid American isolationism, especially across Central Asia and Asia Minor, we will see more Chinese pandas in the coming years. Infrastructure will prove to be a better alternative than intervention and even invitation.
Sumantra Maitra is a columnist with China.org.cn. For more information please visit:
http://www.china.org.cn/opinion/SumantraMaitra.htm
Opinion articles reflect the views of their authors only, not necessarily those of China.org.cn.