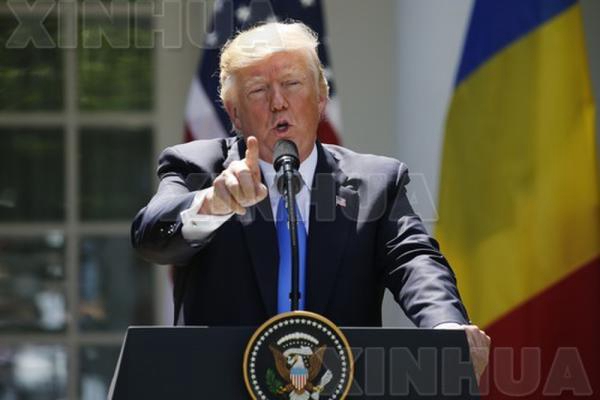 U.S. President Donald Trump [Xinhua]
American President Donald Trump is always good for a surprise. He needs constantly to remind his own people and the world that his campaign slogan was "America First."
Following the appalling terrorist attack on the World Trade Center in 2001, America has been at war with the Taliban in Afghanistan. Yet, its suppression by the U.S.-supported government in Kabul has enjoyed only limited success. [The British learnt in the 19th century just how hard it is for an external force to keep order in Afghanistan.]
So, now, Trump wants to double down and expand the U.S. military presence and activity there.
Reinforcements could start arriving in Afghanistan within days, according to a U.S. regional commander. The current force strength is around 8,400; Trump has already agreed to increase this by a further 3,900, but that had been delayed pending a final presidential decision, which now appears to have been made.
Defence Secretary James Mattis has said that NATO allies would also be asked to support this new deployment, and that several of them "have committed to increasing their troop numbers."
Peace and order in Afghanistan is something on which most of the world agrees. However, Trump has widened his focus to attack Pakistan, saying that the new strategy would focus more on counter-terrorism and increasing pressure on Pakistan to deny "safe havens" to terrorist and militant groups.
The government in Islamabad is being asked to "demonstrate its commitment to civilization, order and peace" – implying doubt it exists.
It's unclear how this approach is going to help U.S.-Pakistan relations or progress on overall regional peace. It is true that Pakistan itself has a big problem with militants and extremists, but it also plays a positive role in providing intelligence for the fight against terrorism, as well as being a vital supply route for the NATO forces in Afghanistan that Trump claims to be so keen to support.
However, more importantly, Pakistan is a key regional ally of China. China has often described the relationship as "all-weather friendship," persisting since 1950 when Pakistan became one of the first countries to recognize the newly-established PRC.
Pakistan has warmly welcomed the opportunities offered by China's Belt and Road project, and Beijing's plans for the China-Pakistan Economic Corridor involve investments of more than US$55 billion. Recent demonstrations of the "all-weather friendship" included Chinese soldiers marching in a parade during Pakistan's national day celebrations last March.
It is no secret that there are long-standing tensions between China and India, as both countries are rapidly developing countries with large populations, and, in addition to the inevitable economic rivalry, there are long-standing territorial disputes that led to war in 1962 and remain unresolved.
Under the current circumstances, it was not helpful for Trump to call for greater Indian involvement in Afghanistan, as this can only increase India-Pakistan tension. In Pakistan, this will only encourage the army to increase its fear of Indian secret ambitions, and risk upsetting the delicate balance between civil and military institutions in Islamabad.
Following Trump's speech, China lost no time in defending her ally, saying that Pakistan "is at the frontline of fighting terrorism." It is clear that the aggressive American approach will strengthen the Sino-Pakistani alliance, underpinned as it will be by the infrastructural benefits of the China-Pakistan Economic Corridor.
No harm in this, but is that what the U.S. foreign policy establishment really wanted?
This is not diplomacy as most understand it. It sounds as though Trump is interested in speaking to no-one but his own electoral base in the U.S. Pakistan, a country under severe pressure both internally and externally, needs very careful handling.
China has always understood this. Barack Obama appeared to understand it, too – under his administration pressure on Pakistan to help with the struggle against terrorism was subtler and more flexible.
If Trump's newly-announced initiative were really likely to bring about peace and stability in Afghanistan, one might be prepared to overlook its more unorthodox aspects. However, past centuries have proved that order cannot be imposed on a country like Afghanistan by force alone.
It is impossible to avoid the conclusion that the new U.S. administration, probably not with intent but out of carelessness of unintended consequences, is withdrawing from playing an influential and constructive role on the continent of Asia. The result can only be an increased role for China – not because of a desire for hegemony, but simply by default.
Tim Collard is a columnist with China.org.cn. For more information please visit:
http://www.china.org.cn/opinion/timcollard.htm
Opinion articles reflect the views of their authors, not necessarily those of China.org.cn.