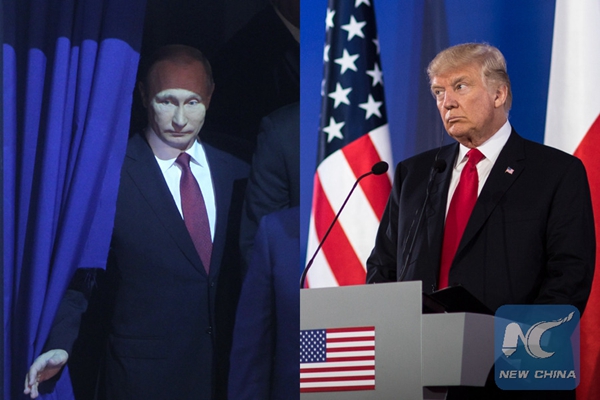 Russian President Vladimir Putin (L) and U.S. President Donald Trump [Xinhua]
It's long been obvious the current bloodshed in Syria is intertwined with global and regional geo-strategic considerations. For example, the entry of Russia in 2015 and subsequent intensive bombing tipped the balance in favor of President Bashar al-Assad.
The U.S. and its allies have supported the rebel groups hoping to send Assad packing, as happened in other places at the height of the Arab Spring. However, Assad showed tenacity and grit to hold on, and slowly scale back the offensive.
Assad has been supported by Iran and Shiites in Lebanon from the start, before getting powerful backing from Moscow. His success mainly lies in not running away in early years and later using the threat of extremism to tarnish the political struggle being waged against his rule.
The U.S. and Russia have a common objective to defeat Islamic State, but, beyond that, their political aims differ. Their obsessions in this regard have created a stalemate in the war, prolonging the suffering of common Syrians.
After brief interaction between Trump and Putin on the sidelines of Asia Pacific Economic Cooperation meeting in Da Nang, Vietnam, the U.S. leader said he needed Russian help to sort out issues like Syria.
The statement issued by the two sides after the chat showed they had discussed and made some progress on Syria, especially with the admission that the "presidents agreed there is no military solution to the conflict in Syria."
It's ironic that it has taken more than six years of bloodshed for them to realize that the Syrian problem cannot be solved on the battlefield. Trump went a step further, and accused his political opponents back home of wasting energy on Russian alleged interference in last year presidential election when he needed Putin to save lives in Syria.
From the military point of view, two important assertions have emerged. First, the two men agreed to eliminate Islamic State, which still poses a huge threat for the region and the world. Second, they agreed to keep the bilateral communication channels open to avoid any mishap between their forces in Syria.
From the peace perspective, they urged various rebel groups involved in the fighting to attend the UN-led peace talks in Geneva. So far, these have failed to make any headway, the main sticking point being the future role of Assad.
The Americans policymakers have long held a view that Assad is history and has no role in Syria's future. However, lately they have modified their views after realizing that it may not possible to proceed without him. After surviving the grueling years of the conflict, how can Assad now be sidelined?
It means that the Americans and the rebels they support should not waste time on the future political career of Assad but focus on framing a constitution that can guarantee fair and free elections and a powerful parliament. Let the people of Syria decide through the ballot box if they are comfortable with their current leader, or not.
That's easier said than done. For Assad, there is Iran. There are strong indications the Iranians are looking for long-term involvement in the affairs of Syria. They have got foothold and may try to station troops for longer period in the name of security. It could end up forming a virtual Iranian military base.
Hezbollah is also heavily involved in Syria and played role in defeating opponents of the regime. However, the presence of Iran and Lebanese Shiite groups may not be acceptable to Israel, nor to Saudi Arabia.
The situation is complex, but not irretrievable. The recognition by U.S. and Russia that efforts for a military solution of Syria are futile can help to create a platform for bringing all stakeholders to a common point of saying no to violence. This could then lead to more target-oriented talks to implement this vision.
Conflicts are never irreversible. There is always hope for good deeds and space for peace. In Syria's case, the security concerns of regional powers and interests of global players have to meet at some point. First, however, the warring groups should head for Geneva and chart a mutually acceptable political roadmap for the country.
Sajjad Malik is a columnist with China.org.cn. For more information please visit:
http://www.china.org.cn/opinion/SajjadMalik.htm
Opinion articles reflect the views of their authors, not necessarily those of China.org.cn.