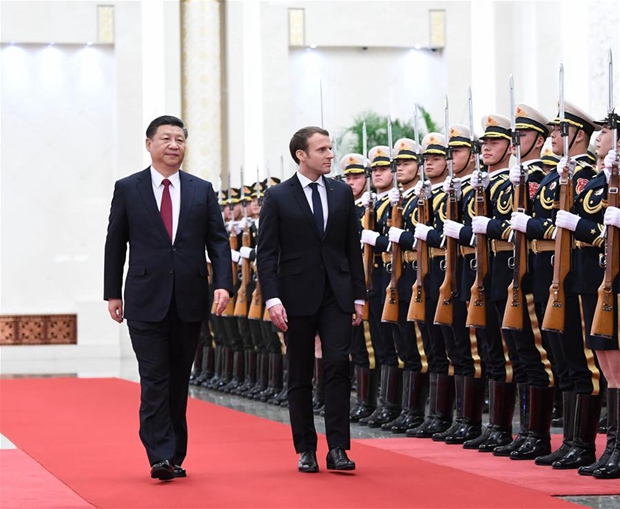 Chinese President Xi Jinping (L) holds a welcome ceremony for visiting French President Emmanuel Macron before their talks in Beijing, capital of China, Jan. 9, 2018. (Xinhua/Zhang Duo)
Macron is a Realist, and France is arguably the greatest ascending power in Europe. Months back, I wrote in these pages immediately after the election of Macron that there's a battle for the soul of Europe coming, and Macron is going to be a key player in that regard.
He is ambitious and opportunistic, which are two good qualities that any young leader should want to display. He wants to federalize Europe, which might arguably be the only logical way for Europe to survive, given the current geopolitical climate and differences in lifestyle and values between East and West.
Macron's recent China visit underscores all the points I made above. On his blitz tour of China, arguably EU's greatest trade partner in the making, Macron visited Xi'an, a departure point of the original silk road, and saw the famed terracotta army. Showing classic French diplomatic skill, Macron gifted an 8-year-old brown horse, belonging to the elite French presidential cavalry corps of the republican guard, to President Xi, who is himself an admirer of the cavalry corps.
Previously, Macron's wife Brigitte was named a godmother of a panda gifted from Beijing. Macron, also, unlike modern Western premiers, is actually knowledgeable about the East. He was quoted in Chinese state media, saying "China is a country that fascinates me, like so many French people … [it is] the oldest living civilization – a 'state older than history', as General de Gaulle once said."
He also is cautiously optimistic about the Belt and Road Initiative, compared to his more skeptical counterparts, and he said Europe should join the new Silk Road initiative but also added that, "They cannot be the roads of a new hegemony that will put the countries that they traverse in a vassal state," he said. "Multilateralism means balanced cooperation." Although that could be attributed to standard diplomatic caution.
Macron is adept at diplomacy. He invited President Putin to the palace of Versailles; he charmed President Trump who, despite his ideological differences with Macron, said that he was a great man. But his real deal was China, who he wants to align with. Macron understands, more than anyone in Europe, how the EU needs Chinese finance in a world, where old alliances are increasingly broken down.
Two key things to note here. First, Macron is swiftly becoming the standard bearer of EU policies. But the EU is just the political grouping. The individual alignment between China and France is even greater. China is now the largest Asian trade partner of France, and Paris is Beijing's fourth largest trade partner. Recently, France has taken a leadership role, not just in the U.S., but within EU, on a variety of issues, like climate change, trade, anti-terrorism, institutional reforms, on which France has found China to be a natural ally.
France understands that Beijing provides a backbone, which will be necessary if France aspires for the global liberal leadership mantle, after U.S. retrenchment and the vacuum left by America First.
More importantly, this provides an opportunity to Macron to tout how France is a better destination for trade than Brexit Britain. While Britain undoubtedly remains the primary trade destination of China in Europe, France can prove to be a major ally within EU, given the broad protectionist currents blowing within the block.
This is therefore naturally a good opportunity. Chinese policy makers should be cautiously optimistic as well. France is a power that could actually be relied upon, as Germany is weakening, and Britain is busy with Brexit. Britain will remain the biggest trade partner in Europe for the near foreseeable future, but France is a tactical alliance, that will only improve, if and when the EU and China can manage to solidify their trade alignment.
Sumantra Maitra is a columnist with China.org.cn. For more information please visit:
http://www.china.org.cn/opinion/SumantraMaitra.htm
Opinion articles reflect the views of their authors only, not necessarily those of China.org.cn.