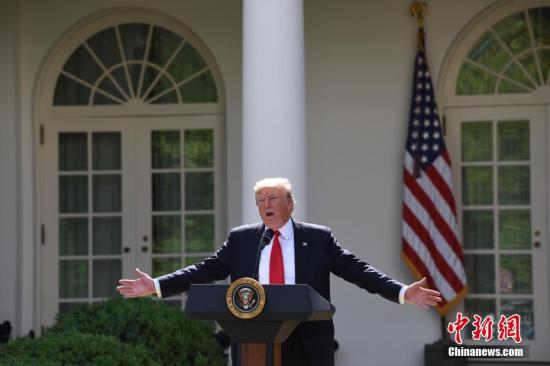 U.S. President Donald Trump [Chinanews.com]
Turkey, NATO's second largest force, is currently engaged in an invasion of Syrian territory, in a northern enclave occupied by Kurdish forces, which are backed by the United States. If this sounds confusing, it's because it is. Significantly, Turkey started what is its first foreign invasion following the failed coup against President Erdogan. In what is said to be an open-ended conflict, the Turkish foreign ministry stated that it will continue until there is a safe zone in Syria and 3.5 million Syrian refugees can return to their country.
The U.S. and Russia both have forces in Syria, but Russia apparently moved its forces out of the Kurdish controlled city of Afrin in tacit consent to Turkey to begin bombing. A clash between U.S. backed forces and a U.S. ally is the cause of evident glee in Moscow. Both the U.S. and Russia have urged Turkey to show restraint to avoid escalation, and Turkey has said they have no intention of entering into a shooting match with either country.
The battle is ongoing, and on its fourth day there are reports of casualties and losses by the Turkish army. Approximately 50 civilians have been killed so far in Turkish bombardment and shelling, according to Britain's Syrian observatory think tank. U.S. Secretary of Defense Jim Mattis said that Turkish efforts were a distraction in the larger effort to vanquish Islamic militants.
This is a curious situation that lays bare the folly of U.S. foreign policy in Syria. Syrian Kurds have been the strongest American allies in Syria against the Islamic State. With the U.S. focus single-mindedly on defeating Islamic State, the strong secular Kurdish forces were a natural ally. After the defeat of ISIS, the United States identified the Kurds as a long-term stability factor in Syria, which led to plans to form a 30,000-soldier strong border force, mostly of Kurds, along the Syria-Turkey border. Unfortunately, that's where the Turks and the Americans differed.
Turkey considers a Kurdish armed forces corps of any size in Syria to be detrimental to Turkish interests. The Kurds in Syria have similar alignments with Kurdish rebels across transnational boundaries within Turkey, Iraq and Iran. They are also a competent fighting force, which makes them a potential threat as an enemy. The question now is whether Turkey and the U.S. will come to blows over this. What if the Kurds retaliate within Turkey? What if Kurdish forces from Iraq and Iran plan attacks in Turkey? Will the Turkish invasion then fall prey to mission creep, and will Turkey come into direct conflict with U.S. forces stationed in Iraq?
Finally, the most important revelation in this situation is just how botched the U.S. policy in Syria has become. The United States, with questionable motives for being there in the first place, could have left matters to powers whose Middle East interests are far deeper. Instead, they betted on a wrong horse, and are not willing now to go all the way.
Now two logical paths lie ahead: First, the U.S. leaves the Kurds to their fate, which would be another case of deserting allies, like Egypt's Mubarak, and would further damage the American reputation as an honest broker in the region. Second would be to support the Kurds and provide them with arms, thereby risking a clash with a NATO ally.
The scenario also provides further evidence that the U.S. stands powerless to stop its allies from their wars. The Saudi intervention in Yemen, and now the Turkish invasion of Syria highlight the loss of American power and willingness to go to war in a region that does not appreciate political impotence. American-Turkish relations historically have been an alliance of benefits and a tactical alignment, but interests may now differ beyond repair. The Turks want to muscle American presence out of the Middle East, and the American response will be observed closely by all major powers across the world.
Sumantra Maitra is a columnist with China.org.cn. For more information please visit:
http://www.china.org.cn/opinion/SumantraMaitra.htm
Opinion articles reflect the views of their authors only, not necessarily those of China.org.cn.