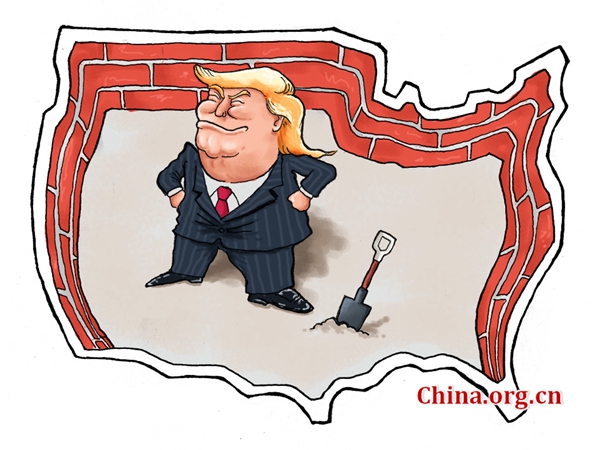 The impression left at the close of China's annual "Two Sessions" was, as intended, one of strengthening and streamlining of the nation's governmental structures. Xi Jinping, re-elected to his second term as President, stamped his authority unmistakably on the session, and decided to simplify the multitude of ministries and parallel structures which have become interlinked over the years, in favor of a smaller number of commissions which clarify responsibilities and chains of command. China's economy has developed so rapidly and extended its reach in so many different directions that such reforms will inevitably be necessary from time to time.
For instance, the President's consistent concern over corruption has led to an agglomeration of anti-corruption powers in the newly-formed National Supervisory Commission, headed by Yang Xiaodu who will work closely with Politburo Standing Committee discipline supreme Zhao Leji.
On the international relations front, an upgrade in the status of China's diplomacy was deemed necessary to face worrying developments both in the East Asian region and in the potentially tricky relationship between China and the U.S. The diplomatic chain of command will cascade from Vice President Wang Qishan to senior economic expert Liu He and two of China's top diplomats, new Politburo member Yang Jiechi and new State Councilor Wang Yi, two famously tough men in dealings with external challenges to China. These promotions represent a significant boost in power and authority for the diplomatic establishment.
This was probably not the best time for U.S. President Trump to challenge China openly by threatening trade tariffs. China has been preparing a response to this for a long time, ever since Trump made similar threats in the course of his election campaign in 2016.
That there will be a sharp response is certain. China's Ministry of Commerce has already issued a statement urging the United States to "draw back from the brink of a precipice" and not to jeopardize U.S.-China trade relations. The U.S. was setting "a very bad precedent" which will be in nobody's best interests. China, meanwhile, will be "fully prepared to firmly defend our interests," the MOC spokesman said.
The likely focus of the Chinese response will be on technology and agriculture. The first would hit U.S. manufacturing - a great deal of the production capacity of companies like Apple has been outsourced to China, and China bought approximately US$1 billion in these products in the last year. The suggestion is that the Chinese side will impose a 15 percent tariff to match the 15 percent the U.S. plans to impose on Chinese aluminum. This is likely to reduce sales radically.
As far as agriculture is concerned, it has been suggested that new tariffs might cover pork products, apples, soybeans and wine. This would have a disproportionate effect on the agricultural states of the U.S., which constitute a significant part of Trump's electoral base. The prospect of losing support in a future re-election campaign may well frighten the President off.
Such a decision by the U.S. President could not be a clearer statement that the United States rejects the global tendency towards free trade and is now flying the flag for protectionism. It is very doubtful whether much support for this stance will be forthcoming from the international community. No one wants a trade war, however much everyone wants to show that they do not fear one.
More generally, the consolidation demonstrated by the Chinese leadership at this month's two sessions would suggest that this is a bad time for an open confrontation with China. President Xi, having now fully established his internal leadership, will be hoping for an early opportunity to demonstrate the effectiveness of his newly consolidated regime, and will be in no mood to show weakness to the outside world.
The newly-streamlined Chinese government is engaged in consultations on possible retaliatory measures across the whole range of Chinese industries, and will also seek support from leading countries on multilateral platforms, such as the World Trade Organization and the G20. The object will not be to fight an all-out trade war, but to deter President Trump from starting one by showing him that he will not be able to win it.
Tim Collard is a columnist with China.org.cn. For more information please visit:
http://www.china.org.cn/opinion/timcollard.htm
Opinion articles reflect the views of their authors, not necessarily those of China.org.cn.