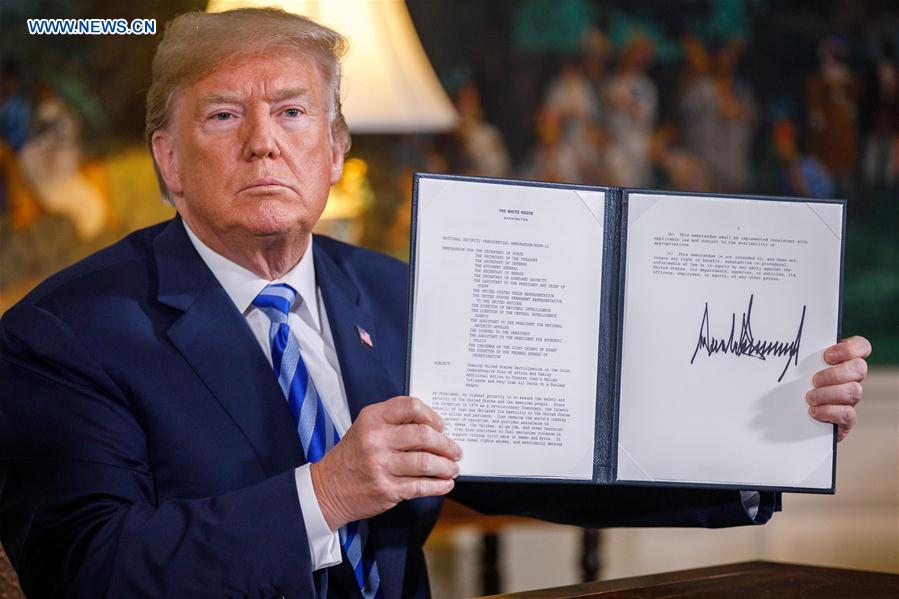 Donald Trump's announcement that he intends to withdraw the United States from the Joint Comprehensive Plan of Action (JCPOA) on Iran's nuclear program has delivered a blow to American credibility as well as to global anti-nuclear proliferation efforts.
Trump's announcement comes at a curious time. Just one week ago, he sounded optimistic about the prospects of reaching a deal to limit North Korea's nuclear program. Now he is pulling out of an already-existing, functional framework. His approach evidences no consistency and no strategy.
Americans generally believe the Iranian government to be untrustworthy and aggressive. Iran supports Hezbollah and local militia groups that are fighting against American- and Saudi-backed militias in Syria. That much may be true, but Saudi Arabia's support for militia groups is just as destabilizing, and its bombing of Yemen has created a humanitarian crisis analogous to Syria's. There is no reason for Iran to be held up as an exceptionally heinous country unworthy of diplomatic relations.
If Trump does not trust Iran to uphold an agreement—a suspicion for which he could offer no evidence—then there's no reason he should trust North Korea either. Negotiations with North Korea would have been difficult in any case, but Trump's decision to break the Iran deal only makes them more so. Now North Korea has credible cause to be skeptical of American promises. By leaving the JCPOA less than three years after signing, Trump is signaling that any treaty America enters into might not last through its next president. Trump's departure from the Paris climate agreement has conveyed the same message.
The potential damage of this action to American leadership over time is far greater than to any one agreement. Global leadership depends on credibility. Other countries will listen and deal only if they can trust that what America says today will be upheld tomorrow. There would be little motive for Iran or North Korea to give up weapons capabilities in exchange for concessions if they can't count on the delivery of those concessions. Trump would be wise to remember that he represents the United States, not just his personal interests or his political party. Presidents change, but the power and interests of a country carry on. Long after Trump is gone, the impact of his actions will still be felt.
If Trump, arrogant as he is, thinks he can now get Iran to accept a deal with better terms for the U.S., he will find himself sadly mistaken. Unity among the five permanent members of the UN Security Council and Germany was at its height when the deal was negotiated. Now the U.S. relationship with Europe, not to mention Russia and China, is strained. The rest of the parties still support the deal, and officials of the French and Iranian governments, among others, have stated their intention to continue upholding the deal without the U.S., not returning to the previous sanctions against Iran.
A number of possible outcomes may occur, none of which are good for the U.S. First, if the parties keep up the deal without the U.S., Washington will have a further diminishing role in global leadership, as has already been happening in the Trump era. Second, if, as the Trump administration has claimed, they impose sanctions on European companies doing business with Iran, thus causing European countries to pull back from business interests, this will only further damage American-European relations, possibly pushing Germany closer to China. Third, if the deal does collapse and Iran continues to produce nuclear weapons in the absence of constraints, then America will be faced with the same problem as before, but without global or domestic support to act.
Whether Trump actually believes he can do better—or even intends to try—is an open question. When he left the Paris Accord, it was crystal clear that he didn't intend to renegotiate. He didn't agree with limiting carbon emissions in the first place, or indeed going along with any deal signed by his predecessor, Obama. It could well be the same with Iran. Many Republicans and hawks don't want to treat Iran as a legitimate country, period. National Security Advisor John Bolton has long called for overthrowing Iran's government.
Trump will have to make a choice: Is he more concerned about regime change than he is about limiting Iran's nuclear program, or more critically, about maintaining American credibility on the global diplomatic stage?
Mitchell Blatt is a columnist with China.org.cn. For more information please visit:
http://www.china.org.cn/opinion/MitchellBlatt.htm
Opinion articles reflect the views of their authors, not necessarily those of China.org.cn.