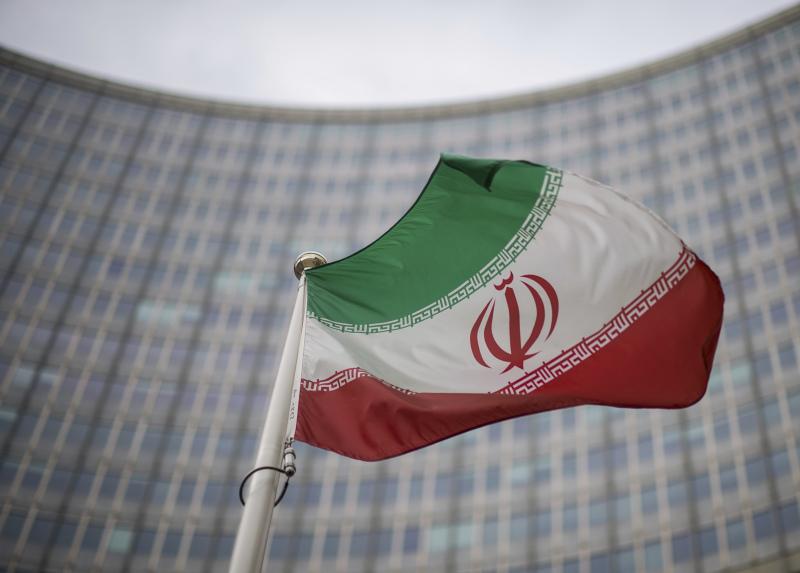 The Iranian flag flutters in front the International Atomic Energy Agency headquarters in Vienna, Austria. [Photo/cfp.cn]
The year 2022 has seen, and 2023 will likely continue to see, difficulties in negotiations to resurrect Iran's nuclear deal. The Biden administration is facing domestic pressure not to comply with Iran's "authoritarian regime," as well as other predictable obstacles. However, as expected, American politicians and experts have attributed the deadlock not only to Iran, but also to a lack of cooperation from China and Russia.

A leading American expert shared these perspectives during a webinar workshop on the Middle East non-proliferation issue attended by experts from the U.S., Europe, Russia, India and China on Jan. 23. He argued that China's lack of cooperation with the U.S. had weakened the international pressure on Iran.
It is certainly unfair to blame China for the impasse in negotiations. Like other nations, China is interested in finding a peaceful resolution to the crisis and has a history of participating in global non-proliferation efforts. However, solving the crisis will be very difficult for China if the U.S. cannot overcome its domestic problems.
Since the inception of the Iran nuclear issue in 2003, China has consistently maintained its stance on the matter despite the evolution of the international environment. China's position can be broken down into three points: a strong commitment to the Treaty on the Non-Proliferation of Nuclear Weapons (NPT) regime, respect for Iran's legitimate interests in the peaceful use of nuclear power, and support for a political solution to the dispute.
Despite the rising tensions between China and the U.S. due to imposed confrontations by the latter, China remains committed to finding a peaceful resolution to the dispute.
First, China sees non-proliferation as critical to safeguarding regional security. There are nine legally recognized and unrecognized nuclear states worldwide, including India, Pakistan, Israel and the DPRK, and more than half of them are in the immediate neighborhood of China. China has no desire to see another nation acquire nuclear weapons.
Second, China will benefit economically if a peaceful resolution is reached. Iran has a huge market with a population of more than 80 million. However, its economy remains underdeveloped due to sanctions over the last 40 years. As a major friendly country of Iran, China stands to gain if these sanctions are removed.
Third, China does not want to face regional uncertainties due to growing tensions. In the absence of an agreement, Iran may advance its nuclear capabilities, which could trigger unexpected responses from the U.S. and its neighbors, particularly Israel. As a major economic partner of the region, China wants to avoid instability that could negatively impact the overall economic environment.
All in all, China has a vested interest in a peaceful solution to the dispute, and is willing to play a constructive role in achieving it. Additionally, other major parties, including Britain, France, Germany and Russia, share more or less similar interests in resuming the Joint Comprehensive Plan of Action (JCPOA). Iran is eager to conclude negotiations with a deal that removes sanctions as soon as possible, rather than weaponizing its nuclear program, as it is a top priority on the nation's agenda. The country's economic struggles have already led to significant domestic pressure on the Islamic government.
The reason for the suspension of the Vienna negotiations should be attributed to U.S. domestic politics. One of the major choking points of the negotiations was that the Iranian side proposed that the U.S. side should guarantee that it would not renege on any future agreement. However, U.S. negotiators responded that the Biden administration could not make guarantees for the next U.S. administration.
That might be accurate, judging by the complexity of U.S. domestic politics, but certainly not reasonable for other parties. The rationale explained by the U.S. side regarding Trump's withdrawal from the JCPOA was that the JCPOA was an administrative agreement instead of a binding treaty passed by Congress, according to numerous media reports.
But if this reasoning still holds, what is the point of negotiating another deal? The Biden administration is already more than halfway through its term, raising questions about the long-term effectiveness of any new agreement, as the next administration may easily withdraw from it.
In other words, if the U.S. cannot change its domestic mechanisms for sustainably implementing agreements, there will be no progress in negotiations. Why negotiate when the next administration may abandon any agreement reached by its predecessor? As the U.S. is a superpower with a key influence on all major global governance issues, such a domestic problem could be a severe challenge, if not a catastrophe, for the world.
Therefore, the current deadlock on Iran's nuclear issue should be attributed primarily, if not exclusively, to U.S. domestic problems. No other parties, including China, can help; only the U.S. can deliver an outcome.
Finally, blaming China is also not legitimate because it underestimates the independent nature of Iran's foreign policy. China maintains excellent friendly relations with Iran. Still, Iran is a sovereign nation-state with a strong sense of national independence, making it essentially immune to outside pressure.
Jin Liangxiang is Senior Research Fellow with the Center for West Asian and African Studies, Shanghai Institutes for International Studies. For more information please visit:
http://www.china.org.cn/opinion/jinliangxiang.htm
Opinion articles reflect the views of their authors, not necessarily those of China.org.cn.
If you would like to contribute, please contact us at opinion@china.org.cn.