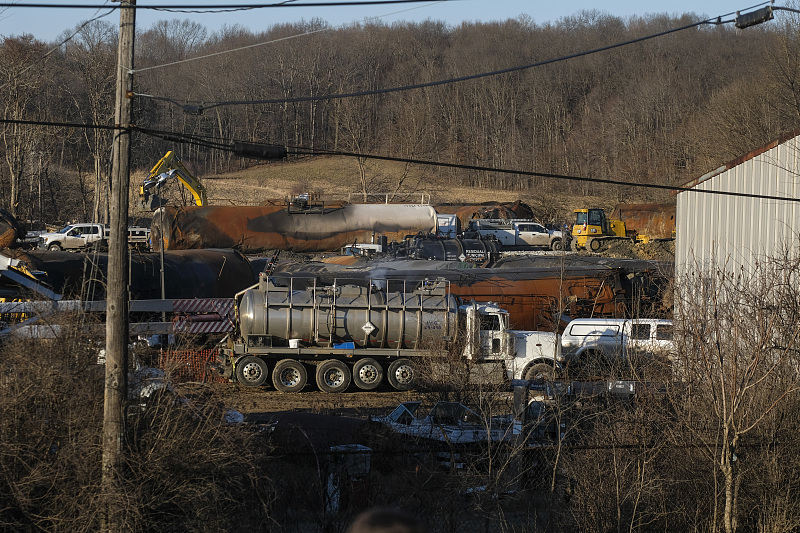 Contractors with Norfolk Southern remove wreckage from the train derailment in East Palestine, Ohio, U.S., on Feb. 16, 2023. [Photo/cfp.cn]
East Palestine, Ohio, is a picturesque town of 4,761 people in the Eastern United States.

The people are straight-talking folk. The main street has a Dollar General store with clothing for sale on a rack on the sidewalk. A mural with an American flag and the words "Land of the free, Home of the brave" is painted on a wall to commemorate those soldiers who died fighting for the country.
On Feb. 6, a plume of toxic chemicals rose over the town as 1.1 million pounds (500 metric tons) of vinyl chloride was burned. It was the result of a terrible train crash on the evening of Feb. 3 that caused 51 cars to end up on the side of the tracks, including nine tanker cars containing 2.1-level and 3-level flammable liquids and gases. The chemicals that leaked into the stream contributed to the observed deaths of 45,000 fish and aquatic animals.
The cause of the crash has been attributed to a malfunctioning component of a rail car, according to an initial report by the National Transportation Safety Board. We don't yet know who was to blame for the failing axle and wheel bearing system, but already there is scattershot speculation and political mudslinging. Republican Senator Marco Rubio blamed Democratic Secretary of Transportation Pete Buttigieg and demanded he resigns. Buttigieg pointed to a letter Rubio signed in 2021 that called for replacing human inspection of railroad tracks with automated inspections.
American freight trains have gotten longer and heavier in recent years as the number of employees operating trains and conducting maintenance has been cut. These changes are part of a new business strategy called precision scheduled railroading (PSR). Nowadays, one single train hauling a hundred or more cars with a variety of contents can replace a couple of unit trains that each carry a single good.
In the old model with hub-and-spoke networks and trains dispatched when demand was met, one train might carry 50 or 100 cars of general merchandise to markets. Another train might carry a load of intermodal freight from a port to a central distribution yard. A third train would carry a couple of dozen tanks of chemicals. Now all of the contents of those three trains are combined into one mega-train, but the same number of engineers still operate the train. For the rail companies that have made huge profits, that is good for business. For the engineers and the people living near train tracks, it's dangerous.
There were only two full-time crew members and one trainee overseeing the 1.7-kilometer-long, 151-car train that rumbled through central and eastern Ohio that early February evening. The final investigation has yet to conclude and won't for months. In past derailments, there has sometimes been a problem with the track, a problem with the rolling stock, an error by the crew, or some combination of those factors.
Suppose the track was unsafe? With staffing levels reduced at rail companies in the name of efficiency, fewer employees have to inspect longer distances of tracks. The overworked employees are not able to catch every defect before it causes a problem.
What about the defective wheel bearing? If there were more maintenance employees, could it have been noticed and fixed sooner?
Allan Rutter, former Federal Railway Administrator of the U.S. under President George W. Bush, has speculated that the car in question might not have been owned by Norfolk Southern, the railway that was operating the train. That raises the question: Are these railway operators just accepting any decrepit containers provided by shippers without doing their own safety checks before dragging them along their tracks?
Negligence and incompetence by crew have been the cause of some rail accidents. Again, we have no idea yet if this was one. But common sense says it should be easier for the crew to monitor a 50-car train than a 150-car train. Moreover, if a train carrying that many cars does encounter trouble, it will take a much longer time to slow down.
Rail companies like Norfolk Southern, CSX, and Union Pacific have laid off tens of thousands of workers from 2018 to 2022. CSX refused to grant workers paid sick leave in recent negotiations with a major rail union.
Jim Blaze, a contributing editor for Railway Age, wrote in October 2020 that the PSR marketing model is all about "genuflecting to Wall Street." Jeremy Ferguson, president of the SMART Transportation Division, a rail workers union, said that "the severe reduction of rail employees has greatly impacted safe operations."
Moreover, the rail industry has lobbied against rules requiring new and more effective electronic braking systems. They influenced agencies and legislators to overturn rules regulating the safety of trains carrying hazardous chemicals.
The smoke has dispersed over East Palestine and surrounding areas. The bulldozers and power shovels are digging up dirt that pollutants had seeped into. The specter of the next disaster looms for the thousands of communities through which trains deliver vinyl chloride, propane, and liquified natural gas every day.
Mitchell Blatt is a columnist with China.org.cn. For more information please visit:
http://www.china.org.cn/opinion/MitchellBlatt.htm
Opinion articles reflect the views of their authors, not necessarily those of China.org.cn.
If you would like to contribute, please contact us at opinion@china.org.cn.