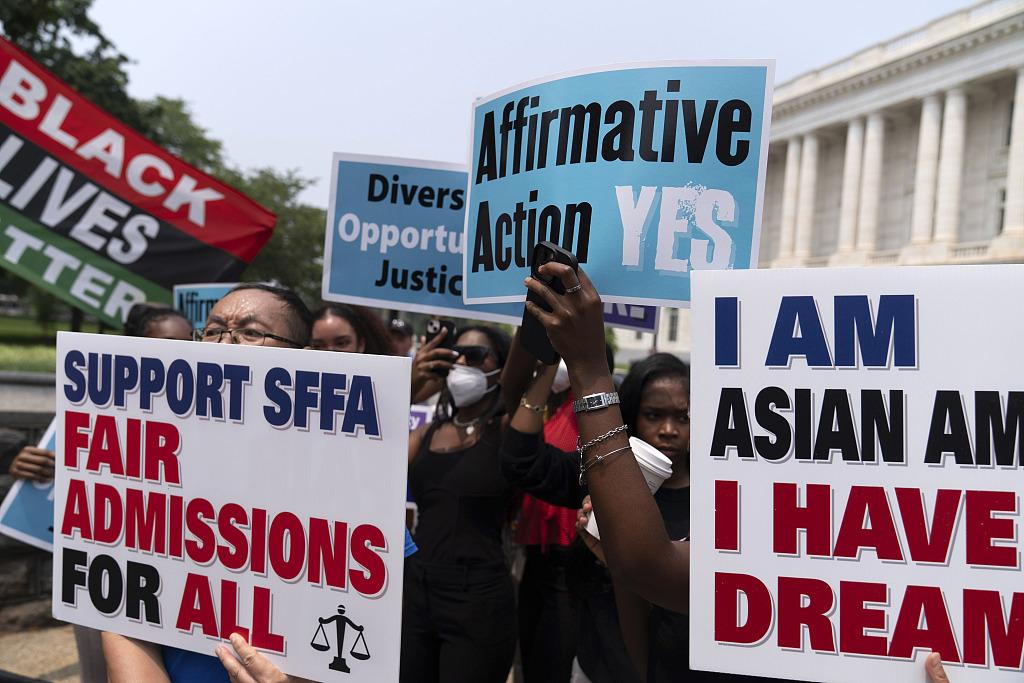 Demonstrators protest outside of the Supreme Court in Washington, on June 29, 2023, after the Supreme Court struck down affirmative action in college admissions, saying race cannot be a factor. [Photo/VCG]
Affirmative action in college admissions has been a contentious topic in the U.S. since the 1970s. The nature of the controversy has changed over time, culminating in the Supreme Court's latest ruling banning universities from using race-based affirmative action.

In 1978, when Allan P. Bakke brought a lawsuit against the University of California, Davis, Asian-Americans only made up 1.8% of the U.S. population. Whites made up 80%. Bakke, who was white, was denied admission into medical school and alleged he faced discrimination in the application process because of his race. The court ruled that affirmative action was permissible as long as racial quotas were not implemented.
Since then, there have been more court challenges and statewide resolutions challenging affirmative action. In 1996, California banned the use of affirmative action in the state. Eight other states followed suit. America's demographics and political ecosystem have continued to change.
The Asian-American population has increased from 3 million to 23 million. Now Asians make up about 6% of the U.S. population. America is not a Black and white country, and affirmative action is not a Black and white issue.
The legal challenge that may have ended affirmative action was brought by a group of Asian-Americans who had been unjustly blocked from attending Harvard University despite having qualifications that should have been sufficient to merit enrollment.
Asian-Americans have the highest average score on the SAT of all racial groups in the United States. They also have higher grade point averages. As a result, we should expect Asian-Americans to make up a larger share of universities, especially elite universities, than their share of the population. Indeed, 21% of the students at Harvard are Asian-American. But that is still less than what it should be if enrollment decisions were judged solely by merit and not by race.
Analysis by Peter Arcidiacono, a Duke University economist, shows that an Asian-American applicant to Harvard with certain academic, extracurricular, and socio-economic characteristics would be 30% less likely to be admitted than a white applicant with the same background and 75% less likely to be admitted than a Black applicant.
The rights of Asian-Americans have been sacrificed to try to address white America's history of discrimination against African-Americans.
Some people who are straining to defend affirmative action dismiss the complaints of Asian-Americans by saying that Asian cultures enjoy a strong focus on education. They invoke a "Model Minority" stereotype which effectively says universities should dismiss Asian achievement because Asians are supposed to be good at math. In countries like China, South Korea, and Japan, students attend school for long hours and take after-school tutoring seriously. But why should individual citizens have to suffer just because they happen to come from a culture that values education?
If affirmative action policies were causing more Black students to be admitted in spots that otherwise would have gone to white students, it would be easier to justify. White Americans, as a group, have for years discriminated against Blacks, Hispanics, and Asians.
The white power structure had taken 12.5 million men, women, and children from Africa and built an economy on slavery. After two centuries of slavery, they imposed racial segregation to block Blacks from owning property, attending school, using public transportation, engaging in commerce, or even drinking from water fountains. They burnt down Black neighborhoods and lynched Blacks who were falsely accused of crimes and took pictures of their mangled, tortured bodies to print on postcards.
Some whites, such as Bakke, would still oppose the concept of affirmative action even if it were targeted squarely at righting past wrongs. The violence and abuses committed against African-Americans in the time of slavery and Jim Crow laws cannot be undone, they would argue. Why should present-day white students have to suffer because of historical crimes they were not involved in?
The counterargument: The legacy of racism continues to harm Black Americans today. And even if America is more equal today than it was a century ago, Blacks still face discrimination. The issue is complicated, and it is difficult to drill down to resolve chicken-and-egg questions about causation versus effectuation. But at least a plausible case could have been made.
However, the reality of affirmative action was much different. The whites who still made up a majority of college administration offices made policies that discriminated against Asians in an attempt to solve a problem caused by whites. Asians with SAT scores up to 140 points higher than white students at the same universities were denied entrance, according to a 2009 report by the National Study of College Experience.
Immigration from Asian countries to the United States has increased greatly since the 1960s. Most of the ancestors of Asian-American students who were being denied entrance to Harvard and North Carolina and other universities were not even living in the United States when slavery and Jim Crow regimes were in effect. Even fewer were involved in government at the time. Asian immigrants were facing discrimination and poverty, including race riots and false convictions in the criminal justice system. Now they have been facing discrimination of another kind.
One of the ways Harvard's racially-biased admissions program worked was through a system of grading "personality traits." In theory, that is supposed to allow applicants to be evaluated on traits that cannot be assessed by tests. It could give universities a method to use to increase the admissions of African-American students.
In reality, any system of personal evaluation conducted by humans will be subject to the biases and stereotypes of those humans. As it turned out, Harvard's biased interviewers rated Asian-American applicants lower on subjective traits such as "likability, courage, and kindness."
The people doing the ratings were not Asian-Americans themselves, and many of them had limited interaction with Asian-Americans in their daily lives. They just applied stereotypes that have been prevalent in movies and literature going back to the days of the Yellow Peril.
It is no wonder that a college admissions system based on "likability" instead of academic achievement, extracurriculars, and qualifications would systematically discriminate against Asian-Americans.
Now the universities are trying to think up work-arounds. They want to keep their affirmative action-style systems in place, either for principled reasons or because of tradition. But the United States is a country where over 400 languages are spoken, where over a million people immigrate to the U.S. from foreign countries every year. It is a country where multiple demographics and characteristics such as race, gender, religion, income, class, personality, and neurodiversity intersect and interact with one another to influence the outcome of people's careers and personal lives.
There is no way to devise a system of college admissions tinkering that achieves the exact racial composition the college administrators deem fair without discriminating against one group or another.
Mitchell Blatt is a columnist with China.org.cn. For more information please visit:
http://www.china.org.cn/opinion/MitchellBlatt.htm
Opinion articles reflect the views of their authors, not necessarily those of China.org.cn.