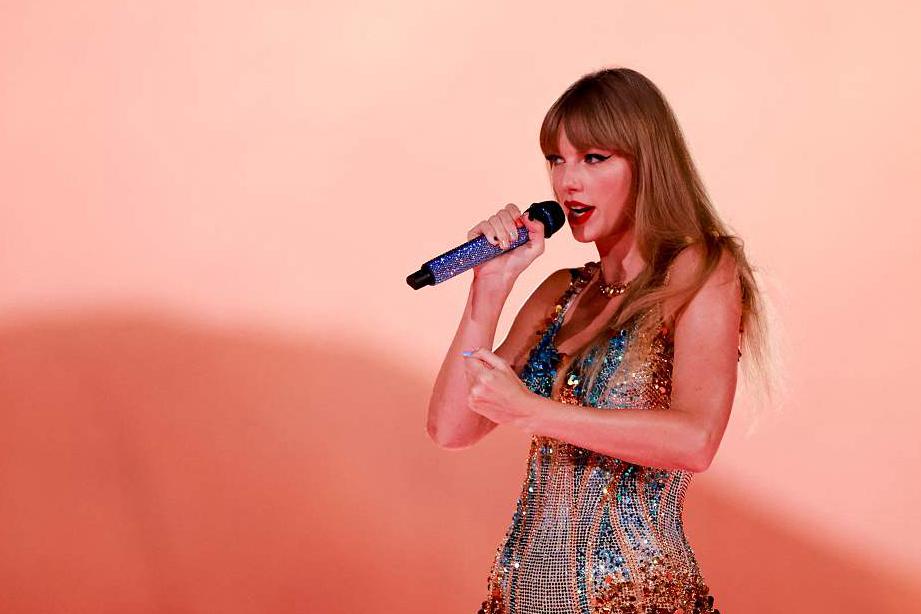 Taylor Swift performs during her Eras Tour at Sofi stadium in Inglewood, California, Aug. 7, 2023. [Photo/VCG]
I am not a fan of Taylor Swift's music. While I have nothing against her, I just don't listen to much pop music.

Nevertheless, I went to see the film version of Swift's "The Eras Tour" to see what everyone was raving about, and I came away with a new view of Blondie. I've seen a lot of Taylor Swift lately. I'm a fan of American football, so Swift was all over my TV screen during recent broadcasts of Kansas City Chiefs games. Her romance with all-pro Chiefs tight end Travis Kelce brought the hottest superstar in music together with a star of the championship team, the kind of high school romance she sings about playing out at the highest level of superstardom. It made her the talk of the American sports world.
Of course, Swift was already the talk of the entertainment and music worlds globally. The Los Angeles Rams only fill SoFi Stadium with 70,000 screaming fans eight times a year. She did it six times in just over one week.
"The Eras Tour" is selling out stadiums globally and setting records for the most ticket sales in a year. It attracted so much demand that it caused the monopolistic ticket-selling company Ticketmaster to get bogged down. Her film version of the concert dominated the box office in its opening weekend and quickly became the highest-grossing concert film of all time.
Despite not being part of the target audience, "The Eras Tour" film made me appreciate Taylor Swift and see what makes her one of the greatest entertainers of our time. It was so fun and well-made that even I stood up to dance during "Shake It Out."
In fact, it got me thinking about a classic Hong Kong singer I love: the late Anita Mui. The two have a lot in common, and I would even go so far as to say that Taylor could be considered the American Anita.
Both of them had electric chemistry with their passionate fans. They gave it their all to put on the best show every night. Even while performing the same set multiple nights in a row, they always made it seem like that night was the biggest concert of their lives, demonstrating a special connection with every single member of the audience.
In addition, both Taylor and Anita changed costumes multiple times throughout their shows and choreographed epic scenes with props and large teams of dancers. Their personal lives were the subject of great attention by both the media and their fans, and their moves were heavily scrutinized everywhere they went.
I could go on with the comparisons – some of which are true of many pop stars, including Lady Gaga and Beyonce – but there are very few who are as loved and as capable of commanding the stage with the presence of Swift.
What I appreciate about both Swift and Anita is their straightforward love of life and the love of their fans. While performing, both recognized that they wouldn't be where they are without them, and they gave it all to provide their fans with what they want.
The way Swift had this film made and released, bypassing the studios to go straight to consumers, was illustrative. So many fans have no ability to see her live, so she had this intimate film made, encouraging them to treat it as if it were a live concert – complete with singing and dancing in the aisles.
Swift's attitude towards her fans stands in stark contrast to the attitudes of some entertainers who, on occasion, display contempt for their fans. For example, those who phone it in at concerts and refuse to play their hit songs.
It's an extremely cynical and self-destructive attitude for a musician to take to disparaging their own best work just because it became popular or to question the legitimacy of prospective fans who are only just hearing about them. What is wrong with a piece of music being enjoyed by many, many people?
Swift never gets tired of singing "Love Story," "Blank Space," "Bad Blood," or any of her other hits – of which there is an endless amount – on tour. That's how it should be. An entertainer is doing a job. They are creating a product for paying fans to enjoy. Those fans have spent a lot of their hard-earned money to see her, and they only have that one night to revel in her stardom.
Those musicians who short-change their fans and view their own songs with cynicism are demeaning and devaluing their own work. The love Taylor Swift expresses toward her fans and toward her music offers a lesson for creatives in any medium and any genre.
Mitchell Blatt is a columnist with China.org.cn. For more information please visit:
http://www.china.org.cn/opinion/MitchellBlatt.htm
Opinion articles reflect the views of their authors, not necessarily those of China.org.cn.