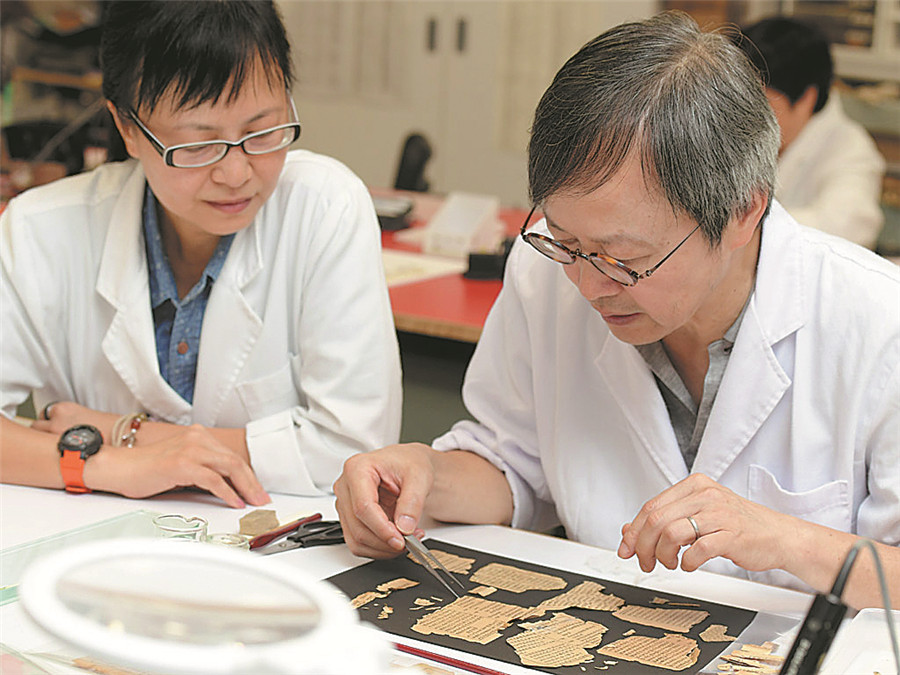 Relentless efforts
In addition to museums operated by the LCSD, many cultural relics are owned by academic institutions, social organizations and individuals.
Every day, boxes of damaged books are delivered by a library van from the University of Hong Kong to the 14th floor of a harborside building in Aberdeen, where the University of Hong Kong Libraries Preservation Centre and Conservation Laboratory is located.
Lesley Liu Yuyang, head of the center, said this pioneering conservation facility, which focuses on books and other paper-based items, not only works on the university's collections, but also offers services to a wide range of clients in the community. On average, the team handles about 5,000 items annually.
Relentless and painstaking efforts are required for restoration work. For example, it took a conservator up to an hour to remove tape from a piece of paper, without damaging the paper itself.
The University of Hong Kong Libraries boasts a vast, unique collection of works in Chinese and English related to China and Asia, which is rare to see around the world, and is of vital importance for overseas communities to study China, Liu added.
The collection of photojournalist Frank Fischbeck, which focuses on Asian society seen through the eyes of a foreigner, is among the projects that Liu's team is working on. Fischbeck has recorded and collected a number of photographic documents about life in Hong Kong from the 1860s to the 2000s, as well as the lives of mainland people at the dawn of the People's Republic of China.
The team is also working on the collections of Luo Zhenfu, an imperial physician in the late Qing Dynasty, who moved to Hong Kong in the 1930s. The collections include Chinese medicine prescriptions, rare books and manuscripts, and correspondence with friends such as Liang Qichao, a prominent reformist at that time.
Luo specialized in treating lung diseases. His descendants donated his collections to the University of Hong Kong Libraries in 2003 during the outbreak of severe acute respiratory syndrome, or SARS, and again in 2020, when COVID-19 emerged.
Liu said the donors, who had been shocked by cases of pneumonia during both outbreaks, hoped Luo's collections could be well preserved to benefit future generations.