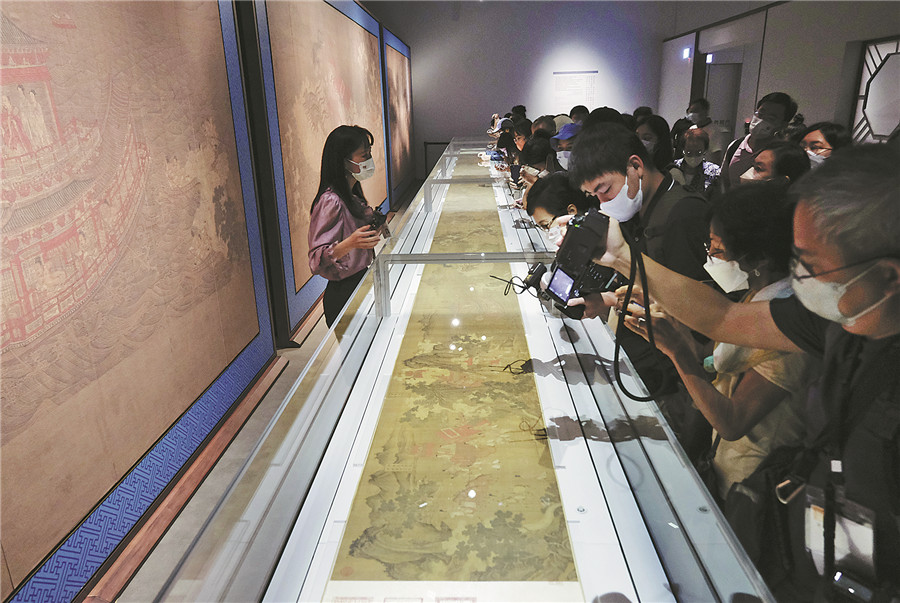 Drawn to city
Conservators worldwide have been attracted to Hong Kong to develop businesses.
Dawne Steele Pullman, a veteran self-employed painting conservator who has traveled to Hong Kong for the past 13 years, has based her business locally due to the city's huge art market and the increasing need for art conservators. She now spends most of her time in Hong Kong.
Few individuals work in private conservation practice in the city, with most of its larger art collections managed by public organizations.
As interest in all types of art continues to grow in Hong Kong, the city is making its mark globally with the establishment of the M+ art museum in the West Kowloon Cultural District. However, Pullman said there is room for more conservators in the private sector, especially for objects, paper items and textiles.
Liang Jiafang, a collection restoration director at the Hong Kong Palace Museum, who used to teach courses related to cultural relics at the University of Hong Kong, said that previously, the attention paid by the city to art and cultural collections mainly focused on their trade value. Now, the value of these treasures is being extended to areas such as education and cultural presentation.
More courses focusing on scientifically researching cultural relics-and the use of virtual technologies to present such items-have been introduced in colleges. For example, the Hong Kong Palace Museum's newly launched weekly painting restoration workshops are proving popular, Liang said.
Numerous initiatives have been launched by the Hong Kong government to support the conservation of relics.
For the 2022-23 budget, the government has allocated HK$37 million ($5.3 million) for conservators at the LCSD and the Hong Kong Palace Museum to receive training, and for local museums to expand internship programs during the next six years. Later this year, the government will seek funding from the legislature to build a designated cultural relics restoration center in Tin Shui Wai. It is planned to complete the center in four years.
Liang said that in the past, cultural relics conservation was rarely in the spotlight in Hong Kong, compared with some mainland and overseas cities similarly steeped in rich culture and history.
She added that the recent changes have been uplifting, but more important, this momentum needs to be maintained and sustainably developed.