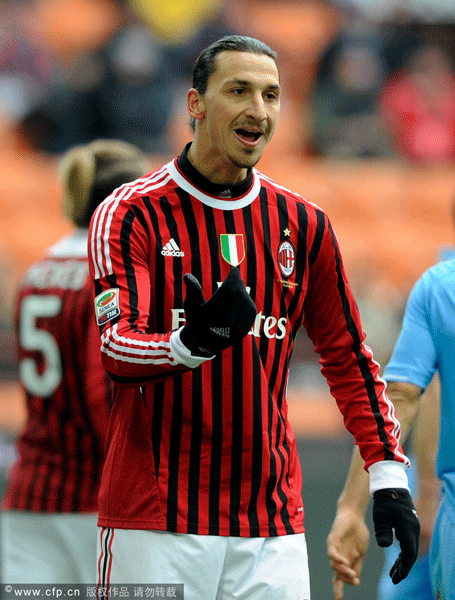 Zlatan Ibrahimovic of AC Milan reacts during the Serie A match between AC Milan and SSC Napoli at Stadio Giuseppe Meazza on February 5, 2012 in Milan, Italy.
Zlatan Ibrahimovic maintains the Champions League is not a personal obsession as he attempts to help AC Milan get over its hoodoo against English clubs this week.
Milan has been eliminated at the last-16 stage of the Champions League by English clubs in three of the past four seasons, with Arsenal beating the Italian champion 2-0 at the San Siro in 2008.
"Many years ago the Champions League was my goal to win at all costs," Ibrahimovic told the Champions League magazine. "But if you blow it up into something gigantic or make it too important, you'll end up never winning it.
"Now I aim to win every trophy I can. If I win, good. If I don't win, I don't win. And this does not diminish my career. If I retired today I would say I was very happy about my career, I have achieved all I could have."
Milan heads into the Arsenal match in high spirits, having regained its position atop Serie A, and with its lengthy list of absent players finally starting to relent. Christian Abbiati, Alessandro Nesta, Kevin-Prince Boateng, Alexandre Pato, Mathieu Flamini and Mario Yepes have all returned to training and are likely to be available, while Sweden striker Ibrahimovic is back from a domestic ban.
"You win titles because you play with champions, they are the people that allow you to win, it is not an individual matter," Ibrahimovic said. "My goal has always been to become as complete a player as possible. I have succeeded, I know what I can do and I am ready to sacrifice for the good of the team. You do not win because you are No. 1, but because the team is No. 1."