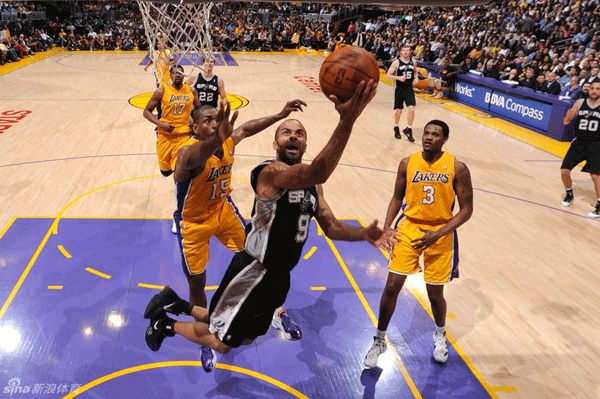 Tony Parker goes up for a basket during Spurs' win over Lakers in Staples Center on April 18, 2012.
While last week's blowout loss to the Los Angeles Lakers still stings the San Antonio Spurs, they found a way to feel better while moving into prime position to win the West.
Tony Parker had 29 points and 13 assists, Tim Duncan had 19 points and eight rebounds, and the Spurs handed Los Angeles its worst loss of the season, 112-91 on Tuesday night in California.
Just six days after the Kobe Bryant-less Lakers jumped to a 26-point lead during a comfortable victory at San Antonio, the Spurs answered by scoring 18 consecutive points during an impressive second-quarter spree. The Spurs snapped Los Angeles' four-game winning streak while dominating a meeting of division leaders - albeit with Bryant sitting out his sixth straight game.
"It went just as well for us as it went for them in San Antonio," Spurs coach Gregg Popovich said. "The Lakers had the kind of night we had back home when they destroyed us. So we had a good night, and we still caught a break: I looked hard, but I didn't see Kobe anywhere. I think that helped us a little bit."
Manu Ginobili scored 15 points as the Spurs (44-16) improved their position atop the Western Conference with their fourth straight win, moving a half-game clear of Oklahoma City (44-17).
In other games, it was: Knicks 118, Celtics 110; Pacers 102, 76ers 97; Pistons 116, Cavaliers 77; and Grizzlies 91, Timberwolves 84.