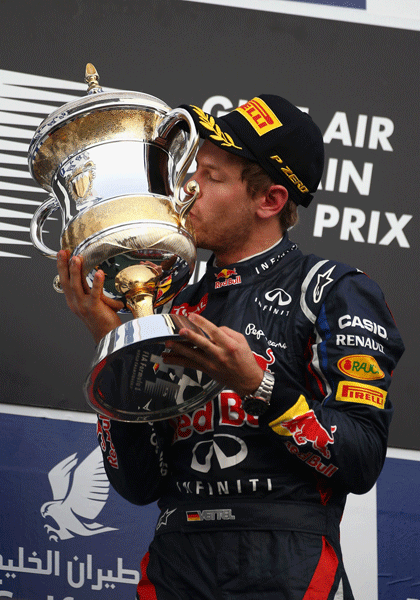 Sealed with a kiss: Sebastian Vettell celebrates winning the Bahrain Grand Prix. [Photo:Sina.com]
Sebastian Vettel delivered his first victory of the 2012 Formula 1 season in the Bahrain Grand Prix after resisting a stern challenge from Kimi Raikkonen of Lotus.
The Red Bull driver stormed into the lead from pole, building a five-second lead after eight laps in the sort of performance that won him 11 races on his way to the title last year.
It was an incredible race," said the German. "We had a very good start, which was crucial. I was able to pull away from the pack which turned out to be a good advantage because we always had to go on used tyres.
"Kimi was quick, and so was Romain. It was a difficult race. Once he was close, I thought he would have more than one shot, but in the end I was able to pull out of a gap."
Raikkonen worked his way up from 11th on the grid to finish 3.3 seconds behind for his first podium finish since returning to the sport this season. Raikkonen's Lotus teammate Romain Grosjean was third, followed by Vettel's Red Bull teammate Mark Webber.
Vettel's victory moves him atop the drivers championship standing with 53 points, four ahead of McLaren's Lewis Hamilton, who finished eighth on Sunday after starting from second.
The race provided a fascinating spectacle throughout, but it did little to distract from the main focus of the weekend - the wisdom or otherwise of deciding to hold the race in Bahrain in the midst of ongoing civil unrest.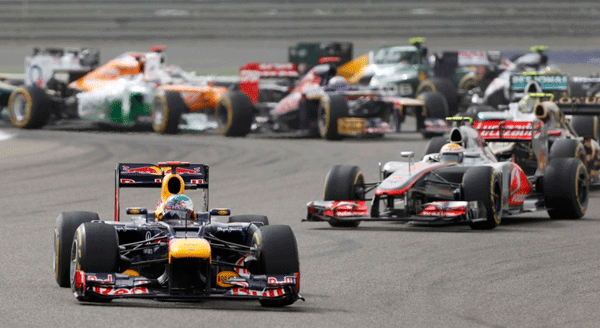 Storming start: Vettel was quickest off the blocks and kept his lead until the chequered flag.