Chinese swimming team, who won five gold medals at the London Olympic Games, received a hero's welcome as they arrived at the Beijing airport Monday afternoon.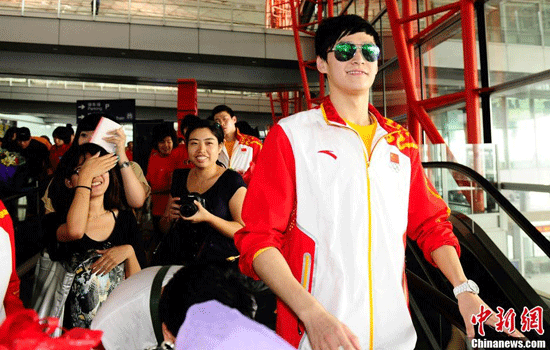 Sun Yang arrived at Beijing airport Monday afternoon.
Hundreds of fans and reporters greeted their heroes, some carrying bouquets of flowers. The crowds burst into exciting screams as Sun Yang and Ye Shiwen, who won two gold medals each, showed up.
The other gold came from Jiao Liuyang in the women' s 200m butterfly. China also won two silvers and three bronze from the pool, the best feat in Olympic history.
Sun, 21, broke the Olympic record in 400m freestyle and became the first Chinese man to win an Olympic swimming gold.
One gold did not satisfy Sun. He went on to bag a silver in 200m freestyle, and smash his own 1500m individual freestyle to help the team' s gold medal tally to five.
"I want to send huge thanks to all of you," Sun said, adding that he knew home fans needed to stay up very late in China to watch the Games.
Sun said the result in London was different from that in Beijing when he was little known. "My dreams have come true, so have the dreams of my coach and the Chinese swimming team," Sun said.
Sixteen-year-old Ye turned to be another spectacular Chinese swimmer, when she won two gold medals from the 200m and 400m individual medleys.
"It's great to be back home. Thank you for your support," Ye said in an exceptionally composed manner. She described her experience at London as an incredible "dream'.
"The incident (of western media's suspicion of doping) gave me a lesson, and I am more mature, though it affected me in a minor way," Ye said.