The United States men's basketball team beat Spain 107-100 to defend their Olympic title in a tight replay of their 2008 Beijing Games final on Sunday.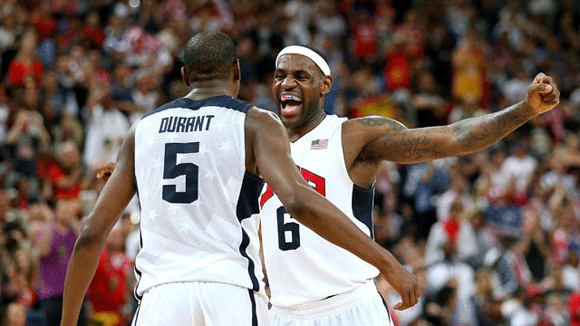 Kevin Durant and LeBron James helped the United States pull out a thrilling 107-100 win.
The Americans have run through undefeated at the London Games as they did in 2008 en route to their 14th Olympic title, and now the dream team is 61-1 since settling for bronze in 2004 Athens Games.
Spain, who beat the bronze medal winner Russia 67-59 in their semifinals, lost 118-107 to the Americans in a close final four years ago, when the dream team pulled away after leading by just four with about 2 1/2 minutes left.
Four years later the encounter was also the same.
The. U.S., which have won their first seven games by an average margin of nearly 36 points, met hard resistance from Spain in the first half as they only led by one point in the period.
Juan Carlos Navarro dropped in four-out-of-six three-pointers and scored 19 points for Spain in the first half, while the U.S. looked irritated after their 35-27 first-quarter lead was cut to one point at the beginning of the second quarter.
Spain continued to pressure the U.S. using their tight defence and advantage in the paint after the break. Pau Gasol from Los Angeles Lakers scored 15 points and Serge Ibaka from Oklahoma City Thunder added six points for Spain in the third quarter, while the U.S responded with a wave of dunks and three-pointers from Kobe Byrant, Lebron James and Kevin Durant.
Still leading by one points after the third quarter, the U.S found back the shooting rhythm in the fourth quarter. Byrant's lay-up push the U.S. lead to ten points with 4:22 left. James added a three-pointer and a dunk to cement the U.S. victory.
Durant led the scoring for the U.S. with 30 points and nine rebounds, with James and Byrant adding 19 and 17 apiece.
Pau Gasol registered a team-high 24 points and eight rebounds for Spain, and Navarro posted 21 points.
In the bronze medal match, Russia came from behind to beat Argentina 81-77 for their first medal in Olympic men's basketball.
Alexei Shved hit a three-pointer with 36.2 seconds left to give Russia a 79-77 edge, and Vitaliy Fridzon's lay up with 5.2 seconds left sealed the victory for Russia.
Manu Ginobili scored 21 and Andres Nocioni 16 for Argentina, which was looking to add another bronze to its Olympic collection after winning one in Beijing and gold eight years ago in Athens.
Shved led the scoring with 25 points, including 13 in the fourth quarter, and veteran Andrei Kirilenko added 20 points for Russia, which only qualified for the London Games last month.