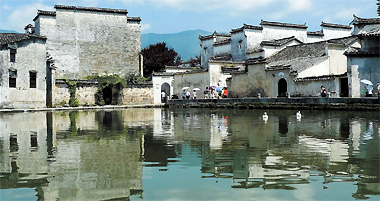 The central pond called Yuezhao is a must-see in Hongcun. Shaped like a half-moon, the pond is surrounded by a cluster of typical Huizhou-style buildings. 
It's hard to imagine an unspoiled habitation anywhere on the planet with a landscape exactly like that in a traditional Chinese ink-wash painting -- but then I visited Hongcun and Xidi villages in Anhui Province.
When I saw the well-preserved towns with my own eyes, they were even more extraordinary than I had envisioned. Hongcun itself is known as "a village in a Chinese painting."
The two hamlets near the southwest foot of the Yellow Mountain were listed as UNESCO World Heritage Sites in 2000.
"The traditional villages Hongcun and Xidi preserve to a remarkable extent the appearance of non-urban settlements that disappeared or were transformed during the last century.
"Their street plan, their architecture and decoration, and the integration of houses with comprehensive water systems are rare surviving examples of an unspoiled way of life in harmony with nature," according to the UNESCO official Website.
Since the two villages are close to each other, it's easy to tour both in one day. You can enjoy the natural beauty of one town in the morning mist, while savoring the romantic sunset at the other at day's end.
But if you have enough time, I highly recommend that you live in the ancient villages for a while, strolling around, chatting with villagers, trying local delicacies and shopping for antiques.
Dating back to the Southern Song Dynasty (1127-1279), Hongcun was a village inhabited by a big family whose surname was Wang.
The Wang family set up 13 buildings when they moved to the site and later the small village developed into a bigger town based on a fengshui master's design.
Seen from a hill, the village's shape resembles a cow, a very unusual design. It's hard for visitors to make out, but a tour guide explains the anatomy. For example, a pond in central village represents the cow's belly and the two 450-year-old trees at the entrance to the village stand for the horns. Of course, you have to link the two with some imagination.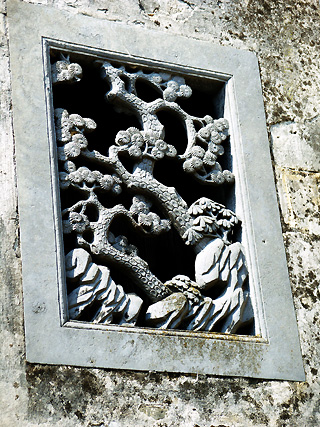 A graceful stone-carved window in the West Garden in Xidi Village. 
Today Hongcun has 140 well-preserved residences built in the Ming (1368-1644) and Qing (1644-1911) dynasties; around 300 families still live in the area.
Almost every building is an outstanding representative of Huizhou-style architecture, including gray walls, dark tiles, horse-head gables and open interior courtyards. The style was favored by local merchants.
The degree of preservation is extraordinary -- maybe that's the reason Hongcun became a popular choice for artists and filmmakers.
When I stood on the stone bridge at the entrance to the village, I suddenly had an eerie feeling of deja vous. Then I realized where the feeling came from. In the opening scene of Ang Lee's "Crouching Tiger, Hidden Dragon," the kung fu master heroine leaps a beautiful pond, which is just what I was seeing. Many fight scenes from the movie were shot in Hongcun. In 2002 the film won Academy Awards for Best Foreign Film and Best Cinematography.
In addition to the striking architecture and mountain scenery, the complicated water system is a significant feature of Hongcun.
A waterway built in 1424 flows through the entire town so that each household had easy access to water at its doorstep. The flowing streams also lower the temperature and assist firefighters. The waterway is connected to two large ponds and there was once a filtration system to collect floating garbage. Water for cooking could only be collected before 8am, and after that washing and bathing were allowed.
Today all families in the village have tap water, so the stream is mostly used for washing.
Our tour guide gave us a tip: if you get lost in the village, just follow the direction of the stream's flow and you'll find the entrance.
Another must-see is the central pond called Yuezhao, representing the cow's belly. Shaped like a half-moon, the pond is surrounded by a cluster of typical Huizhou-style buildings reflected in the clear water. The pond has been reproduced three times on Chinese postal stamps.
When appreciating the architecture, take special note of the wood-carving and sculpture, from detailed window and door frames to beams and pillars.
Among the buildings open to visitors, Chengzhi Hall is famous as a "civil palace." It was built in 1855 as the residence of Qing Dynasty business tycoon Wang Dinggui. It has nine courtyards and seven lofts. Many outstanding craftsmen were hired to decorate the complex.
While Hongcun is famous for wood structures and ornamentation, Xidi Village is famous for exquisite stone sculpture dating back several centuries.
About 15 kilometers from Hongcun, Xidi is another "living fossil" of ancient houses in southern Anhui Province.
Dating back 900 years, Xidi today has 124 well-preserved residences and three ancestral temples built in the Ming and Qing dynasties. As with Hongcun, several hundred families live in the village.
Unlike Hongcun, Xidi looks more like a big maze with more than 90 narrow lanes zigzagging through the whole town. It won't take long to get lost without a guide. Paved in bluestone, the lanes weave throughout the village, linking man and nature.
Throughout the village there are gray walls and dark tiles, paned windows and stone benches, old wells and stone bridges, all with artistic touches.
You can find delicate flowers, birds and beasts carved on the winter melon-shaped wooden beams and marble door frames.
Even the bricks used for walls bear delicate carvings of pavilions, animals and human figures.
Residents spare no effort in maintaining their beautiful courtyards and gardens with breathtaking landscapes.
In the West Garden, residence of a Qing Dynasty official, our guide told us a Japanese tourist wanted to pay US$100,000 to buy the stone-carved window. But the owner wouldn't sell.
I thought all the decorations in the garden should be national treasures.
A Chinese writer once observed: "If you want to learn about the life of Chinese emperors, please go to Beijing; if you want to know about civilian life in the Ming and Qing dynasties, please go to Hongcun and Xidi."
That's 100 percent true.
How to get there
By Train: Take a train from Shanghai to Hangzhou, transfer to a bus from Hangzhou to Tunxi, which takes about two hours. Then take another one-hour ride on a transit bus to Yixian where Hongcun and Xidi villages are located.
By car: Take the A8 (Shanghai-Hangzhou Expressway) toward Anhui-Hangzhou Expressway. Exit at Tunxi and drive 55 kilometers to Yixian. It takes about five hours.
By air: Take Eastern Airlines or Shanghai Airlines to Tunxi Airport. It takes about an hour. Then take a transit bus to Yixian.