Ningxia opens its first national hi-tech industrial zone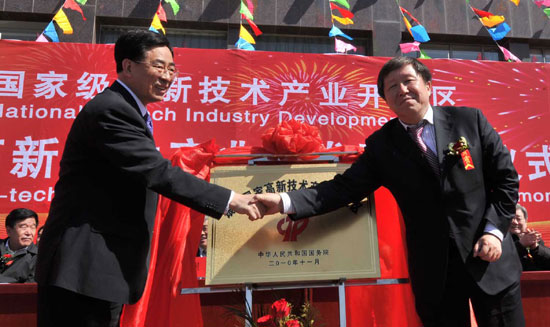 Zhang Yi (left), secretary of CPC Ningxia Hui Autonomous Regional Committee, and Cao Jianlin, vice minister of the Ministry of Science and Technology, unveil the plaque to officially open the Yinchuan Hi-Tech Industrial Zone in Lingwu City, Ningxia Hui Autonomous Region, on April 10. [Liu Quanlong/Xinhua]
On April 10, Yinchuan Hi-Tech Industrial Zone opened as the first national-level hi-tech industrial zone in Ningxia Hui Autonomous Region. China now has 83 national national-level hi-tech industrial zones.
Located south of Lingwu City, the industrial zone now houses 52 companies, among which 43 are involved in cashmere industry. The zone has become an important cashmere processing and distribution center in China.
Last year, the zone boasted a total output value of 6.6 billion yuan (US$ 1 billion). Dehaired cashmere processed and sold here reached 4,800 tons, the equivalent of 58% of the world market and 70% of Chinese market.
Send your stories
Get more from China.org.cn

Mobile

RSS

Newsletter