Jujube festival opens in Lingwu City
The fifth annual jujube festival kicked off on Wednesday in Lingwu, Ningxia Hui Autonomous Region.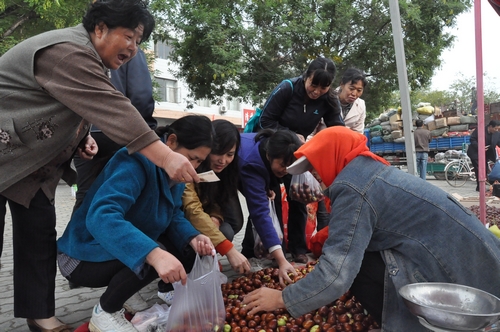 During the festival, the local government signed a contract to supply Lingwu long jujubes to Wumart supermarkets in Beijing.
This year, more than 20 buyers have placed orders for Lingwu long jujubes totaling 5.2 million kilograms during fairs and festivals held in the city.
The variety of jujubes grown in Lingwu are rich in vitamin C. A 100-gram long jujube contains up to 600 milligrams of vitamin C, far more than that found in apples, pears, grapes, peaches and oranges, earning the fruit the nickname "natural vitamin supplement."
Long jujubes have become a key industry for the local economy. The city has established a jujube industrial zone stretching over 100 kilometers, with a planting area of 8,667 hectares and an expected output this year of 9 million kilograms.
It is reported that the city is enlarging the planting area of long jujubes in the region and the output is expected to surge to 200 million kilograms by 2013.
A jujube industrial park is under construction that will produce jujube juices, jujube powders and jujube wines.
Send your stories
Get more from China.org.cn

Mobile

RSS

Newsletter