Want a getaway from your busy and tiring life? Go to these ancient towns in Meishan City for a refreshing tour! Meishan City is a prefecture-level city in southwestern Sichuan Province, 78 kilometers south of Chengdu.
Jiangkou Ancient Town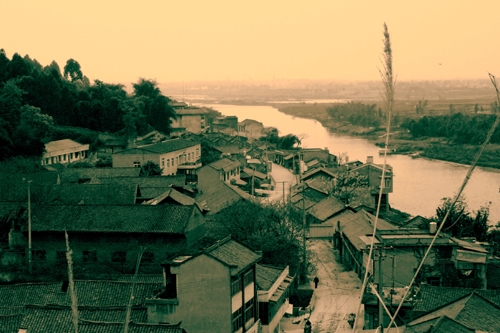 Jiangkou Ancient Town, located in Pengshan County, is forty-five kilometers away from Chengdu and 25 kilometers away from Meishan City. The town, occupying a strategic position where the Fuhe River (today's Jinjiang River) and Minjiang River met, was contested by all strategists in history. It was also a transportation hub of waterways and land routes between Chengdu and Leshan; a great many merchants and personages gathered here. The town's splendid history can be traced by its ruins, cliff tombs from the Eastern Han Dynasty, a five-li main street, ancient-style shops, and aged banyans. Stilted buildings are the main form of architecture of the town. There are also many teahouses and wine shops. The area around Jiaolouzi was the earliest tea market in the world.
Liujiang Ancient Town
Liujiang Ancient Town, located in Hongya County, Meishan City, and 150 kilometers away from Chengdu, is one of the ten most famous ancient towns in Sichuan. The town features a long history and amazing mountain and water scenery; its people are known as simple and honest. The world's biggest statue of sleeping Guanyin bodhisattva, the Forest of Steles on the Shengmu Mountain, time-honored temples, various kinds of flowers, towering ancient trees, old houses, winding stony paths, suspended iron chains, and stilted buildings never fail to impress tourists. An annual tourism culture festival is held at the end of April and beginning of May. A large aquashow of folk music, an exhibition of Hongya folk culture, a mountain-climbing event, teamaking performances, and a cross-country bicycling race through the forest on Yuping Mountain are all highlights of the festival.
Gaomiao Ancient Town
Located in southwestern Hongya County, Gaomiao Ancient Town is 56 kilometers from the county seat, and 14 kilometers from the famous Jinding on Mount Emei. The town is a place travelers must pass on their way to Mount Emei, Mount Wawu, and Mout Zhougong. With a history of 700 years, the town is in a good condition rarely seen among ancient towns in mountainous areas. Its fascinating layout and architecture has made the town the shooting site for a number of films. When there is a temple fair or festival, there is much buzz and excitement.